US sponsored Resolution against Sri Lanka passed – what next
Posted by Editor on March 24, 2012 - 9:05 am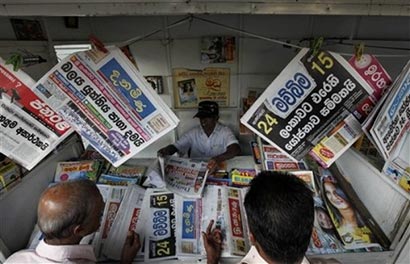 Pix by AP
The world's worst perpetrator of war crimes & crimes against humanity went to great lengths to canvass nations to support a Resolution on "accountability" against a UN member state that has been the only country in the world to eliminate terrorism. That Resolution was passed with 24 countries favoring, 8 abstaining & 15 voting against. If India could vote against US on Iran why did India not vote in favor of Sri Lanka? If India's excuse is the concern of Sri Lanka's "accountability" we next need to remind India & tell the world that Sri Lanka's terrorism was given birth in India! How many nations are actually aware of this? Sri Lanka would understand the decision of any country to vote against Sri Lanka but India had no moral right on account of its own guilt in being the root cause of the existence of the LTTE.
Yes, a Resolution has been passed frankly it was nothing to be surprised about when it is being tabled by a global bully. Yes, a terror conflict concluded in Sri Lanka that too after it was made to continue for 30 years. Yes, there were civilian casualties – we are talking about a scenario where LTTE were amongst civilians, shooting at civilians who tried to flee, depriving civilians of food sent by the Government. There are so many ways civilians can die when they have been hounded and made to walk across thick jungles and marshy land. But what is significant is that 30 years of terrorism ended in less than 3 years giving Sri Lanka a country without bombs and its people the chance to start life afresh.
Sri Lanka's objections to the US Resolution was primarily because the country tabling it is plagued with crimes it simply refuses to acknowledge while projecting itself as guarding of human rights! Moreover, it is a country that has been vetoing every Resolution the UN has passed against Israel. The General Assembly has passed over 100 resolutions condemning Israel of this Resolutions 44 have been vetoed by the US.
The underlying message is that UN Resolutions cannot be applicable only to smaller & less powerful nations. The 2012 UNHRC sessions drama revolving around Sri Lanka's Resolution had the US stretched to lobby for endorsement which itself should be regarded a victory. A lot of expense for nothing.
How many member countries were really aware of the LLRC or even read it. If it was only the US & India that was privy to it how can the entire membership be made to vote on US clauses that refer to the LLRC. Moreover, is the LLRC really sufficient for its mandate too covered only the period of the final war against the LTTE? If that is so then LLRC has not tabulated the roots of Sri Lanka's problem failing to name the culprit that nursed the tigers and failing to name the factors that led to LTTE prevailing for 30 years.
Sri Lanka doesn't need an LLRC report to know that if there are issues related to missing persons, disappearance & abductions, the underworld must be handled & rule of law must prevail. If the LLRC had been commissioned genuinely then before making it public it should have been properly reviewed to ensure none of its recommendations serve to compromise the sovereignty of the country nor allowed foreign interference in any way. It is aspects of these recommendations that are being twisted against us presently.
No Resolution can dictate to Sri Lanka not even India to demilitarize the North, reduce high security zones and devolve land & police powers. These echoes India's clear intentions that India wants Sinhalese out of the North and with the ferry and accusations on fishermen issues it simply spells India's plan to send more illegal immigrants into Sri Lanka and populate it with Indians! Indian PM clearly said that India's objective was the self-respect, dignity & justice for Sri Lankan Tamils. What more excuses do we need? If the Sri Lankan authorities cannot read this clearly then something is drastically wrong. Do we need to beg Sri Lankan authorities to immediately do away with the 13a & abolish the provincial council system? There is no better opportunity than now.
If Sri Lankan authorities plan to "forgive" India for voting for the Resolution simply because it has "tweaked" it then our leaders are more naïve than we thought. Whatever tweaking India did was only to ensure India had a say in matters going global as India does not want to tolerate too many nations involved in Sri Lanka despite the Chinese factor.
The Resolution itself makes clear that there are shortcomings in the LLRC and this gives the Government the onus to brave the odds and come out with an action plan that makes sure India, US and allies do not have any provision to interfere in Sri Lanka.
Since the LLRC covers only the final period of the war with LTTE the Government must stop playing to the gallery and start functioning professionally. The Government need not adopt the policy of ridiculing the opposition to secure its popularity amongst the masses. What the Government needs to remember at all times is that all these foreign pressures are meant to oust it from power. Therefore, the President needs to call upon his merry men to pull up their socks and start functioning properly. The local administration setup must be fine tuned and simplified to cater to the needs of the people. This needs to happen without delays.
On an international front the Government needs to seriously address its shortcomings. As a nation grappling different types of enemies we need to be aware of what our representatives must do. We cannot plan to fail or fail to plan. We now need to be a proactive nation and not one on the defensive and certainly not one functioning on emotions.
Internationally, we are faced with a situation that merits greater attention. We cannot deny the influence of the Tamil Diaspora. They have been able to even buy over foreign MPs, diplomats, UN officials and human rights groups. In such a scenario one way to handle this would be to apply universal jurisdiction against the Tamil Diaspora for financing terrorism.
This then brings us to the TNA – a political party that has shamefacedly aligned itself to the LTTE. That India openly encourages Sri Lanka's Government to negotiate with the TNA spells a dirty fish. The TNA has been functioning against the Constitution of Sri Lanka & it demands action.
Another error made has been to allow ethnic based parties to register as political parties. This has encouraged divisions among ethnic groups by politicians who use "ethnicity" to come into power. If changes can be made to reverse this it would be a great facilitator for reconciliation.
What needs to be reiterated and repeatedly so is that commissions or resolutions cannot change how people function. Humans are a complex species. The divisions were first created by the British – they called people majority & minority, then we became Sinhalese, Tamils & Muslims. It further divided into castes, classes and we all function amidst these complexities.
Accountability & Reconciliation maybe excuses for foreign interference but given that we are aware that nations are going to be using these themes we need to now start planning to overcome them. We must now turn the tables to our advantage.
Shenali Waduge
Latest Headlines in Sri Lanka