US tables Sri Lankan resolution with India line
Posted by Editor on March 9, 2013 - 3:31 pm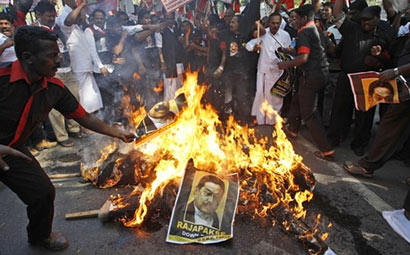 – Submitted by Walter Jayawardhana –
The US resolution on Sri Lanka, which was presented to the United Nations Human Rights Council (UNHRC) in Geneva on Friday, has incorporated India's suggestion that the Office of the High Commissioner of Human Rights (OHCHR) take the island government into confidence while probing cases of atrocities.
The resolution seeks to ensure that "special procedure mandate holders" tasked to look into human rights violations, work only in consultation with and with the concurrence of Colombo.
The provision for taking the Lankan government into confidence was part of the US resolution of March 2012 as well. It had been included at India's insistence as New Delhi refused an intrusive resolution which could put Sri Lanka's sovereignty into question.
The US resolution of 2013 said that neither the Lessons Learnt and Reconciliation Commission nor the National Action Plan, had "adequately" addressed allegations of rights violations.
It expressed "concern" at "reports" of human rights violations, including enforced disappearances; extra-judicial killings; torture; and the violation of the right to freedom of expression; association and peaceful assembly. The resolution points out intimidation of civil society and journalists and threats to judicial independence and rule of law.
The resolution has categorically stated that the US  expected "unfettered access" to the UN Special Rapporteurs looking into areas such as judicial independence; human rights defenders; freedom of expression; freedom of association and assembly; extra-judicial, summary and arbitrary executions; minority issues; enforced and involuntary disappearances and discrimination against women.
The US resolution made a strong pitch for the devolution of power to Tamils. It has also called for an independent international probe into violations of international human rights and humanitarian laws during Eelam War IV. This is, however, unlikely to be accepted by the Mahinda Rajapaksa government as it believes that any such investigation will violate the nation's sovereignty. (Courtesy The New Indian Express)
Latest Headlines in Sri Lanka