US vows to work with new Sri Lanka leaders
Posted by Editor on January 12, 2015 - 2:41 pm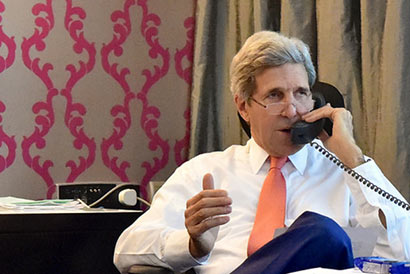 Washington pledged Monday to work with Sri Lanka's newly-elected government to help improve human rights and democracy, voicing hope the election will mark the start of a new chapter in ties.
Veteran leader Mahinda Rajapakse had alienated many foreign leaders by refusing to cooperate with an international probe into alleged wartime abuses during a crackdown on Tamil Tiger rebels.
Kerry spoke with Rajapakse just "days ago," he told a press conference, to highlight "the importance of maintaining a peaceful process no matter what".
"So it is good that the people of Sri Lanka have been able to have an election that has been accepted and which has resulted in a peaceful change of power," he told reporters in Gandhinagar, western India.
But the top US diplomat cautioned: "There are still real challenges in Sri Lanka."
Sri Lankan President Maithripala Sirisena speaks outside of the Buddhist Temple of Tooth in the cent …
"We offered immediately to engage in a dialogue to begin to work at guaranteeing that the problems with respect to human rights, the problems of inclusivity, challenges with respect to governance are going to be addressed."
There was however "hope that we can now forge a different outcome in Sri Lanka. The election hopefully will become a demarcation point for a new moment, a new chapter, a new set of opportunities for the people of Sri Lanka."
Kerry had earlier voiced appreciation for Rajapakse's early concession of election defeat, although a Sirisena aide has since said the former president tried to hold onto power by staging a coup.
Relations between Washington and Colombo soured under Rajapakse after the United States secured a UN-led investigation into the final stages of Sri Lanka's separatist war that ended in May 2009.
Kerry is in India ahead of a visit by US President Barack Obama, who will be guest of honour at the country's January 26 Republic Day celebrations.
(AFP)
Latest Headlines in Sri Lanka