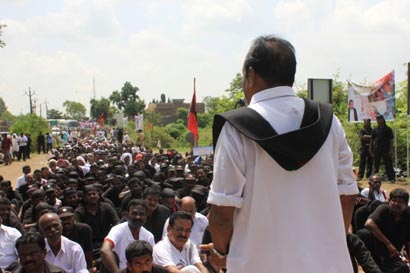 Submitted by Walter Jayawardhana
MDMK chief Vaiko, along with 400 activists of several Tamil outfits, was arrested on Monday when they attempted to picket the Sri Lankan Deputy High Commission in Chennai pressing for their demands, including a probe against the island government over alleged war crimes.
Mr. Vaiko, Tamil Desiya Iyakkam (Tamil Nationalist Movement) leader P. Nedumaran and around 400 people owing allegiance to about 20-odd pro-Tamil organisations were arrested, police said.
The protestors also demanded that India support a U.S.-sponsored motion against Sri Lanka in the U.N. Human Rights Council, and raised slogans against island country President Mahinda Rajapakse.
They were also demanding closure of the mission in the city.
The DMK-backed TESO (Tamil Ealam Supporters' Organisation) will hold a similar protest on Tuesday with party Treasurer M.K. Stalin slated to lead the agitation.
Political parties in the state have been pressing for action against the Sri Lankan government for the alleged war crimes committed by its army during the last phase of the conflict with rebel LTTE.
DMK, a key UPA ally, has been insisting that India sould support the US-sponsored Sri Lanka-specific resolution in the ongoing UNHRC meet at Geneva.
The chorus in the state for India joining hands with the US grew stronger following the alleged cold-blooded killing of slain LTTE chief V Prabakaran's 12 year-old son Balachandran.(Courtesy the Hindu)