Titagarh Marine takes barge out through Sri Lanka
Posted by Editor on March 5, 2013 - 7:37 am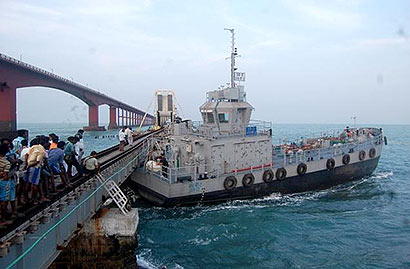 Submitted by Walter Jayawardhana
The row between Kolkata-based Titagarh Marine, which owned the barge that crashed into the Pamban rail bridge and the Southern Railway after the latter denied permission for it to pass through the bridge without paying Rs. 1.5 crore compensation, took a dramatic turn with the company taking out the barge via Sri Lanka.
After the Railway authorities denied permission to the company to take out the barge through the rail bridge, pending payment of compensation, the company gave a bank guarantee for an undisclosed amount to the Judicial Magistrate (JM) Court, Rameswaram and took out the barge and the tug boat on Friday evening.
Sources in Pamban and Rameswaram ports said the Tuticorin-based Shifa Marine, which is providing logistic support to Titagarh Marine, handed over a letter to the port authorities on Friday stating that they were moving from Rameswaram anchorage following court order.
The barge remained anchored at the Rameswaram port, ever since it had crashed into the bridge after anchor failure on January 13 and salvaged by Shifa Marine on the same day. The tug boat, which was towing the barge, too ran aground soon after it arrived near the bridge on January 19 and it was salved on January 27. Both were anchored at the Rameswaram port, awaiting permission to pass through the bridge to Karwar.
Unwilling to wait anymore after the Railways denied permission, the company decided to take a circuitous route, around Sri Lanka and reach Karwar, covering an extra distance of more than 250 nautical miles, sources said. When contacted, Divisional Railway Manager (DRM) A.K. Rastogi told The Hindu that the company was asked to take out the barge after paying the compensation of Rs. 1.5 crore. Later, legal action has been taken against it and the matter was pending before the JM court, Rameswaram.
"Just because the court handed over the property to the company, it does not mean it should be permitted to pass through. Let the court give its verdict, we will follow the order and the rule of law," the DRM said.
The Tamil Nadu Railway Police (TNRP) had filed a case against it and arrested the tug boat captain and the seaman, who were released on bail. He said adding that the Railways would move the Madurai Bench of Madras High Court to speed up the case.
The TNRP, which took possession of the barge after registering a FIR, handed over the 'property' to the JM court, which in turn, handed it over to Titagarh Marine, a fortnight ago. Armed with the court order, the company moved the Pamban port conservator, seeking permission to pass through the bridge. The company had submitted a no objection certificate issued by the TNRP, but the Railways denied permission.
The tug boat, towing the barge from Kolkata, was waiting at the northern side of the Pamban rail bridge, when the barge after anchor failure, drifted and crashed into the century-old rail bridge at the wee hours of January 13, forcing suspension of train services from Mandapam to Rameswaram for a week. (Courtesy: The Hindu)
Latest Headlines in Sri Lanka