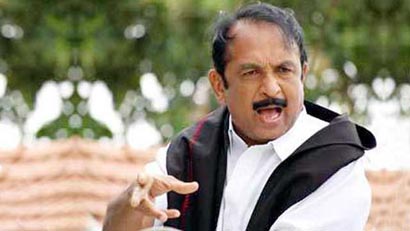 Submitted by Walter Jayawardhana
CHENNAI: MDMK leader Vaiko wound up his anti-prohibition padayatra on Thursday by sending out a strong message on the Sri Lankan army's alleged atrocities during the ethnic war in the island nation.
However, the way he did it raised a lot of eyebrows. More than 350 schoolchildren were roped in to don masks of Balachandran, son of slain LTTE chief V Prabhakaran. Among them was Karthik, son of an MDMK union secretary, who wore a blue checked towel on a bare chest, with shorts and a packet of biscuits – the way Balachandran appeared in a photo released by a UK-based TV channel.
While Vaiko and his followers were walking on GST Road, the schoolchildren awaited his arrival, looking completely bemused. "I've no idea why I have been brought here," said E Robinson, a Class 10 student from the government school at Chemmenchery. Some of them hadn't even heard of Prabhakaran or Vaiko. However, there were some who were a little more informed.
"Their issue was with Prabhakaran, but they took it out on his son," said S Mohanagopika of Class 8 and P Yogeshwar of Class 9 from Sivananda Orphanage. "We read it in the papers and asked our teacher about it. Whatever be the cause, killing children is wrong."
"I thought this event will be a good learning experience for the children," said Dr S Rajaram, general secretary for the Sivananda Saraswathi Sevashram. "I differ with Vaiko on his political views, but I feel strongly about war crimes"
Much of the bewilderment left the children's faces once Vaiko addressed them. "He was a 12-year-old, just like you. Yet they inhumanly killed his five security guards in front of him and shot five bullets into his chest! What did that child do? Is it a crime to be Prabhakaran's son? You children represent the world's conscience here today demanding justice," thundered Vaiko. (Courtesy: Times of India)