Vaiko wants India to stop deportation of 46 refugees from Australia to Sri Lanka
Posted by Editor on January 19, 2014 - 12:50 pm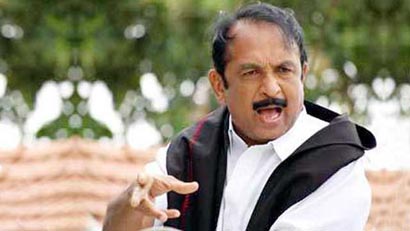 Marumalarchi Dravida Munnetra Kazhagam (MDMK) general secretary Vaiko on Saturday called upon the Indian Government to intervene "through diplomatic channels" and stop deportation of 46 Tamil refugees from Australia to Sri Lanka.
"It is a matter of grave concern that the lives of the 46 refugees detained in Australia may be subjected to mortal danger if they are deported to Sri Lanka," Mr. Vaiko said in a letter to Prime Minister Manmohan Singh, a copy of which was released to the media.
The 46 refugees, who reached Australia seeking asylum, were detained five years ago by the Australian government.
Though as per international conventions the Australian government was duty bound to protect the Tamil refugees, it detained the refugees resulting in unbearable mental depression and agony for them.
This led to one of the refugees committing suicide two years ago, he said.
Australia should also allow them to live peacefully by releasing them from detention and providing asylum, Mr. Vaiko said.
Stating that most of the refugees were under detention for more than four years, he said there was no threat to the Australian community or government from the refugees.
The Australian government, to please Sri Lanka, had decided to deport them.
"If they are deported there, they will be tortured and eventually they may be liquidated," according to Mr. Vaiko, who pointed out that Australia had supported Sri Lanka during the recent CHOGM in Colombo.
The Australian government had also entered into a commercial deal with Sri Lankan Navy. – The Hindu
Latest Headlines in Sri Lanka