Vaiko's mother takes part in fast
Posted by Editor on March 23, 2013 - 8:38 am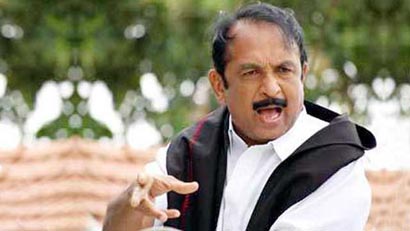 – Submitted by Walter Jayawardhana –
Demanding a referendum on the Tamil Eelam issue and an independent enquiry by the international community into the war crimes in Sri Lanka, over 700 villagers of Kalingapatti, birthplace of Marumalarchi Dravida Munnetra Kazhagam general secretary Vaiko, observed a fast in their hamlet on Friday.
Mr. Vaiko's 91-year old mother V. Mariammal and his younger brother and Kalingapatti panchayat president V. Ravichandran also participated in the hunger strike conducted between 9 a.m. and 5 p.m.
"(LTTE's slain chief) Prabhakaran's only demand for Tamil Eelam should be fulfilled and (Sri Lankan President) Mahinda Rajapaksa be hanged for his war crimes including the merciless killing of Balachandran," said Mrs. Mariammal, who refused to drink even a glass of water till the end of the protest.
She garlanded the portrait of Balachandran before the start of the hunger strike.
MDMK's disciplinary committee member Palanisamy, former MLA T. Sadan Thirumalaikumar, students' wing secretary T.M. Rajendran, party's political council member K.M.A. Nizam, office-bearer 'Minnal' Mohamed Ali and others participated in the fast.
They raised slogans against the Union Government for betraying the Sri Lankan Tamils by failing to move its own resolution in the United Nation Human Rights Commission's recent session at Geneva. Black flags have been tied in front of almost all houses in the village and all shops downed their shutters for the fast. (Courtesy: The Hindu)
Latest Headlines in Sri Lanka