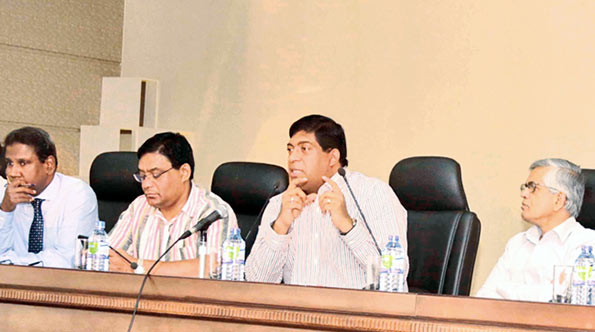 The Vehicle Importers Association of Sri Lanka and Vehicle Importers Association of Lanka summoning a joint press conference on Saturday welcomed the pledge made by Finance Minister Ravi Karunanayake to waive the 10% vehicle re-export tax.
The Finance Minister gave this assurance to vehicle importers when they met him on Saturday to discuss issues faces by the industry.
Sampath Merenchige President, Vehicle Importers Association of Lanka speaking to media at the press briefing held after meeting the Finance Minster said they appreciate very much the pledge given by Karunanayake to waive the 10% re-export levy.
Merenchige also said with the guarantee given by the Finance Minister that for two years he will not reduce taxes on vehicles and will maintain a static tax policy, the vehicle market will also get stable. He also said that the minister has promised that vehicle prices will not be increased in the next budget.
Used cars importers summoning a news briefing last month said they will restrict vehicle imports to the country. This was in the backdrop of the rupee exchange rate continuously depreciating and its negative effects hampering vehicle imports to the country.
Also in a communiqu' issues recently the Ceylon Motor Traders Association (CMTA) alleged that despite meetings between the Finance Ministry, Customs, the CMTA, representing brand new franchise holders, and grey market importer associations, where feedback was called from all sides, the final decision on valuating vehicles was made by the Government behind closed doors and with neither the input nor the consent of importers.
Soon after the Budget 2016 was presented in Parliament by the Finance Minister Ravi Karunanayake, vehicle prices drastically increased as a result of import duties and taxes imposed on vehicle imports. In that context, the Budget had turned out to become a nightmare for those who were hoping to buy their own vehicle.
(Daily News – By Fizel Jabir)