VESAK MOON CLOSEST TO EARTH MAY 6, TO APPEAR 11 PERCENT LARGER THAN NOVEMBER MOON
Posted by Editor on May 6, 2012 - 11:07 am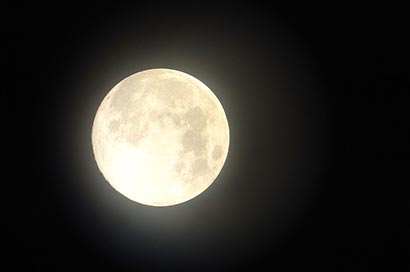 Onlanka News – By Walter Jayawardhana
The Vesak moon will be closest to the earth on Sunday May 6 than it is on any other night in entire year 2012 and hence it will appear very much larger.
The phenomenon, called supermoon, this year coincides with 'Vesak"Celebrations all over the world.
On May 6 at 9.05 pm, the distance between the earth and the moon will be 3,56,955 km, the closest this year, and the angular size of the moon will be 0.5515 degrees, scientists have said.
According to astronomers  on May 6, the moon will set at western horizon a few minutes before the sunrise and then it will rise again on the same evening about an hour after the sunset.
On the other hand, on November 28, the moon will be the farthest from the earth this year and the distance between the two will be 4,06,349 km.
Thus, the full moon of May 6 will be about 11 per cent bigger than the full moon of November 28.
Latest Headlines in Sri Lanka