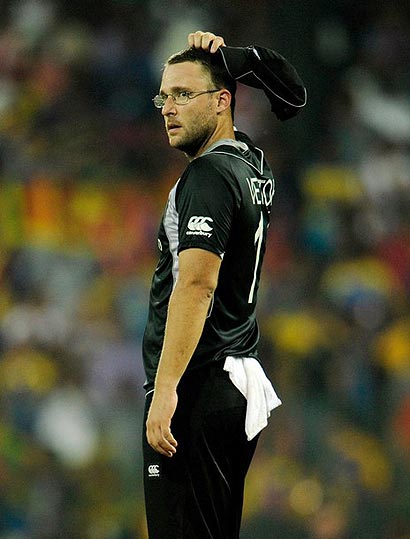 Onlanka News – By Walter Jayawardhana in Los Angele
(Pix by Reuters)
New Zealand captain Daniel Vittori will quit Cricket twenty20 and captain of the national team after the defeat of his team at Colombo's R. Premadasa cricket gtounds, the New Zealand Herald reported.
"Vettori, … confirmed after the match that he'll step down as captain and from the Twenty20 team," Herald's Andrew Alderson reported from Colombo after the Kiwi defeat at the hands of the hosts.
"The fairytale which unfolded for New Zealand in the quarter-finals against South Africa never looked like repeating in the first 33 overs of Sri Lanka's chase last night"the report further said.
The hosts were set to take a decisive and deserved place in the final. Then the Black Caps struck and almost broke the jinx of six consecutive semi-final losses in 10 World Cups,the Herald further reported.The report added, " John Wright's appointment as coach can only go so far by way of explanation for the team's resurgence of late. Yes, he is the definition of a catalyst but this demonstration of heart, albeit on the end of a five-wicket loss with 13 balls to spare, was foremost generated by the players. They deserve suitable plaudits for a gallant effort."
"The aggression which spurred New Zealand on in Dhaka initially struggled to work against the composure of Sri Lanka in front of their home crowd. The measured skill displayed by the hosts was matching the Black Caps' controlled fury. Their top three batsmen – Dilshan, Upul Tharanga (30) and captain Kumar Sagakkara (54) – stroked the ball to all parts and backed themselves to win. It is no accident each of them is in the top four tournament run-scorers. But the reverse is also true, their middle to lower order had experienced limited time at the crease and the void was obvious.
"Much was made pre-match of using the same pitch as that used in Sri Lanka's victory over England but did not seem to adversely affect the quality of the cricket. In hindsight the groundsman may well have been right in his assertion it would be fair. It may well have assisted the likes of Muralitharan, Mendis et al but the New Zealanders largely got out to their own errors. Muralitharan can now compete for double World Cup glory on Saturday in Mumbai having played his last ODI at home."