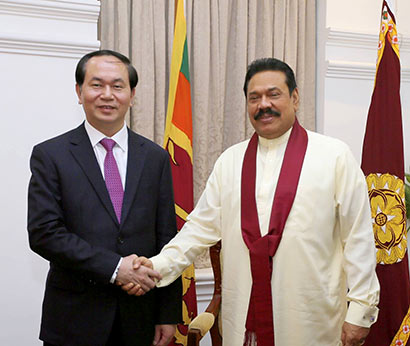 Vietnamese Minister of Public Security Prof. Gen Tran Dai Quang called on President Mahinda Rajapaksa at Temple Trees yesterday (07) evening. He was on an official visit to Sri Lanka with a view to strengthening cooperation between the two countries in the areas of public security, law and order.
Welcoming the visiting Minister, President Rajapaksa thanked the Government of Vietnam for its consistent support to Sri Lanka at international fora, especially during the recent session of the UN Human Rights Council. The President also recalled how the government and the people of Sri Lanka and he himself, since his student days, supported the heroic struggle of Vietnamese people against foreign domination.
Prof. Gen Tran Dai Quang, while appreciating Sri Lanka's support for his country said that the long-standing traditional friendship between the two nations should be further strengthened not only for the benefit of their people but also to ensure long-lasting peace, development and security in the region.
The Vietnamese minister invited President Rajapaksa to visit his country again in the near future.
Ambassador of Vietnam in Sri Lanka Mr. Ton Sinh Thanh, Director General of External Security Lt. Gen. Nguyen Chi Thanh and the Director General of International Cooperation Maj. Gen. Tran Gia Cuong were associated with the Vietnamese Minister.
Secretary of the Ministry of Law and Order Maj. Gen. Nanda Mallawarachchi, Inspector General of Police Mr. N.K. Ilangakoon and the Secretary of the Ministry of External Affairs Mrs. Kshenuka Senewiratne were also present.
(President Media)