SLC barred us from speaking to media during T20 WC – Sanga
Posted by Editor on April 8, 2014 - 6:18 pm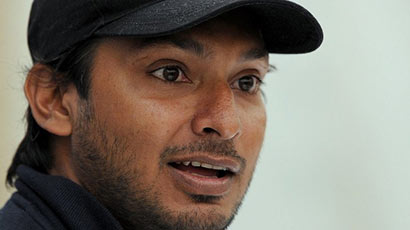 Former Sri Lanka cricket captain Kumar Sangakkara says that the Sri Lanka Cricket (SLC) had prohibited both Mahela Jayawardena and himself from speaking to the media during the World Twenty20 tournament in Bangladesh.
The star batsman, who retired from T20 internationals with Jayawardena following the World Cup, said that they were asked to refrain from speaking to media as the cricket board was irked by their decision to announce the retirement to media before informing the SLC.
Sangakkara stated that in an interview with a local newspaper before leaving for Bangladesh he had revealed that this would be his final Twenty20 World Cup.
"Apart from responding to a question neither I nor Mahela called the press or went further," he said, responding to questions from reporters at the Katunayake Airport.
The stylish batsman said that he and his team always welcome constructive criticism  and that they have learnt from it.
He stated that criticism, love and hate come with the job and that as Sri Lankan cricketers they have come to lean to take it all.
"Constructive criticism is welcome," he said, adding, that some people criticize them negatively or personally just to hog the limelight or other reasons.
The veteran batsman stated that they, as national cricketers, play not only because they have signed a contract with the Sri Lanka cricket board but because they represent the country and its people.
Our job is to play cricket and do a good job for Sri Lanka, he said.
He further said that even though they are scolded by one or two people they know that the majority of Sri Lankan fans here and abroad are with them and love them.
Sangakkara said that the team has a lot of work to do with adapting to the new rules introduced by the ICC and to will focus more on Test cricket and the one-day format, especially with the 5-over World Cup taking place in New Zealand and Australia next year.
On being asked for how long they would continue in the other two formats, Sangakkara said he cannot make a prediction of the future right now but vowed that they would continue to fight hard for the team and country.
(Ada Derana)
Latest Headlines in Sri Lanka