'Vishista Seva Vibhushanaya' confers on senior officers of three Armed Forces
Posted by Editor on June 8, 2011 - 5:54 am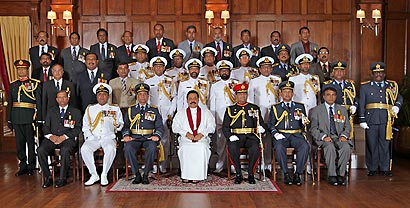 Onlanka News – By Janaka Alahapperuma
(Pix by: Sudath Silva)
President Mahinda Rajapaksa conferred "Vishista Seva Vibhushanaya- Distinguished Service Decoration" on several senior officers of three services at the investiture ceremony held at the Presidential Secretariat this afternoon on 07 June 2011. The President recognized the exemplary service of senior officers in the three Armed Forces with over 25 years of service by conferring the medal and bar at the ceremony.
The Vishista Seva Vibhushanaya decoration was conferred on officers belonging to the Sri Lanka Army, Sri Lanka Navy and Sri Lanka Air Force for their exceptional, distinguished and loyal service to the motherland.
The ceremony was attended by Chief of Defense Staff Air Chief Marshal Roshan Gunathilaka, Army Commander Lieutenant General Jagath Jayasuriya, Navy Commander Vice Admiral Somathilake Dissanayaka, Air Force Commander Air Marshal Harsha Abeywickrama, many senior officers of the three Armed Forces and a number of other distinguished guests.
The Vishista Seva Vibhushanaya-" Distinguished Service Decoration"  medal and bar which was established in 1981, are presented to Sri Lankan senior military officers of three services, given that their loyal service is of not less than 25 years and possess a perfectly flawless record of moral and military conduct, will be appropriate for the award. The service required to be eligible for the decoration should be continuous uninterrupted service. The Service Commanders will be the sole judges of the standard of conduct required and will be responsible for recommending only those persons who are in every way worthy of the distinction and whose conduct has been irreproachable throughout their service. The standard required for a grading of irreproachable shall be a personal record clear of entries during the whole of the qualifying period and no recommendations should be submitted when this condition has not been fulfilled. Every recipient of the decoration shall be eligible for second conferment during his lifetime. The Vishista Seva Vibhushanaya will be an exclusive award and will normally be awarded to officers of the rank of and above that of Lieutenant Colonel in the Army, Commander in the Navy and Wing Commander in the Air Force. The decoration is awarded by the President at the National Day Parade or at a special investiture ceremony, the beneficiary will be permitted to use the post-nominal letters of VSV after his/her name.
Source: Sri Lanka Navy
Latest Headlines in Sri Lanka