Visitors welcome at H'tota water filling ceremony
Posted by Editor on August 12, 2010 - 4:26 am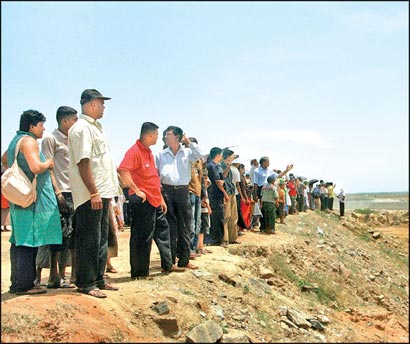 Considering public enthusiasm to see the inaugural water filling ceremony of the Hambantota harbour, visitors to the event will be allowed to view the historic water filling ceremony from the harbour bed, Ports Authority Public Relations Deputy Chief Manager Nalin Aponsu said.
The water filling ceremony will commence on August 15 morning under the patronage of President Mahinda Rajapaksa.
Visitors will be allowed to the harbour premises from 4 a.m. without hindrance. Sri Lanka Ports Authority has taken steps to facilitate the visitors as this is a historic event.
The harbour will be filled with small quantities of water first to allow the public to wade in and wallow in the water as this is an opportunity afforded once in a lifetime. Gradually, the harbour will be filled up to the required water level.
Daily News
Latest Headlines in Sri Lanka