Vote for anyone except Rajapaksa – JVP
Posted by Editor on November 24, 2014 - 5:30 pm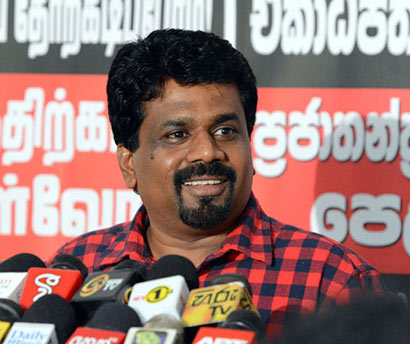 Revealing their stance on the forthcoming Presidential Election, Sri Lanka's Marxist Janatha Vimukthi Peramuna (JVP) today stated that it has no conditions with any of the candidates, however urged the public to vote for any candidate of their choice, except President Mahinda Rajapaksa.
"Our stance is very clear. It won't be an issue for the people either," JVP leader Anura Kumara Dissanayake said, replying to a question from journalists regarding who they will be backing at the polls.
He stated that there aim is to go beyond defeating the "dictatorial madness" and also to stand up for democracy. "We are working towards achieving this objective."
However, Dissnayake stated that his party is clearly of the view that public should not vote for Mahinda Rajapaksa and that it is not a hidden fact. "Defeat the dictatorial madness means don't vote for Rajapaksa," he added.
"To put it simply, what we're saying is vote for anyone you choose except Rajapaksa," the MP said.
"But don't stop there," he stressed, adding, that lining up to win democracy is equally vital.
(Ada Derana)
Latest Headlines in Sri Lanka