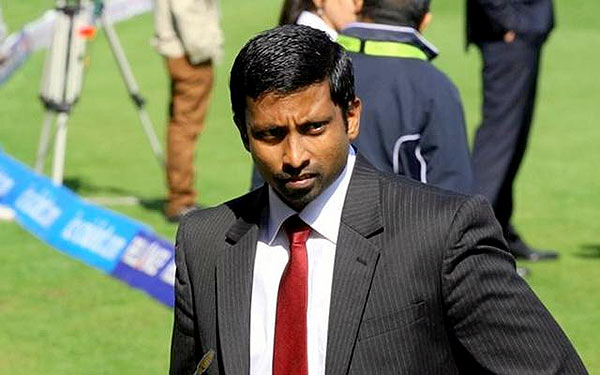 Former Test cricketer Russel Arnold, who was last week appointed as the Director of Lankan Premier League tournament is confident of making the event a success. Sri Lanka is the only leading cricket playing nation in the Asian region not to have a franchise based tournament as India (IPL), Pakistan (PSL) and Bangladesh (BPL) have highly successful domestic T-20 competitions of their own. SLC had launched Sri Lanka Premier League in 2011 but the tournament crashed a year later due to lack of sponsorship.
SLC has appointed the 44-year-old Arnold, who retired in 2007 to make the event a success.
"We need to make the tournament something that everyone looks forward to. Not just the players, but fans, owners and everyone. I am confident that we can make this a success. There's plenty of interest already and that excites me," Arnold told The Island.
The former St. Peter's and NCC cricketer was expected to travel to Malaysia last night where the Asian Cricket Council is meeting to be introduced to cricket officials of the region. Arnold will take charge in his new role on the 1st of May. The inaugural edition of the LPL tournament is scheduled from the 18th August to the 10th September. SLC has allocated a three week window for a period of five years to play the franchise based tournament.
"We need something like this. We are falling behind our skill levels. There's a huge interest for franchise based competition and that culture is there. It's a good opportunity for players to showcase their talent and get them play under pressure and develop their skill levels," Arnold added.
SLC is looking at a five team tournament to start with and will increase the teams to six from next season.
Local officials are negotiating with Board of Control for Cricket in India to get the participation of Indian players for the event. The only franchise based tournament the Indians are allowed to play is the Indian Premier League. The participation of Indians will help SLC to attract sponsors and television companies.
Lack of interest by local companies was one main reason why SLPL failed to take off. Officials are focusing on getting leading local companies join the event as there is lot of interest on the new concept.
In a bid to maximize revenues for the Nidahas Trophy tournament, SLC had outsourced the commercial rights to a marketing company and the board could adopt a similar strategy for Lankan Premier League as well.
(Source: The Island – By Rex Clementine)