War crime probes will hinder Sri Lanka's reconciliation: ex-defense secretary
Posted by Editor on March 28, 2017 - 6:36 am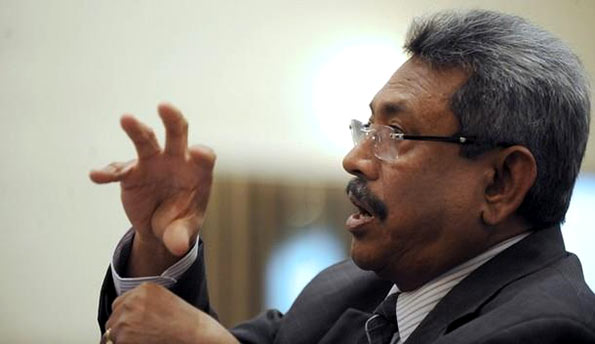 War crime investigations backed by some Western countries and the United Nations will exacerbate the differences between Sri Lanka's two main ethnic groups instead of uniting them, former defense secretary Gotabaya Rajapaksa said on Monday.
As defense secretary, Gotabaya Rajapaksa, the brother of former leader Mahinda Rajapaksa, oversaw the defeat of the separatist, predominantly Hindu Liberation Tigers of Tamil Ealam (LTTE) by the government military in a 26-year war.
Gotabaya Rajaksa, the most influential government officer in the Rajapaksa government, has been accused of committing war crimes in the final weeks of the conflict ended in May 2009. He has denied all the allegations against him.
A U.N. panel has said around 40,000 people, mostly ethnic minority Tamils, were killed in the war's final phase. Families in the former northern war zone still complain of thousands of enforced disappearances during that time.
Gotabaya made his comments four days after the U.N. Human Rights Council said Sri Lanka must make more progress toward meeting commitments to establishing a credible investigation into alleged war crimes during the country's civil war.
The United Nations originally asked Sri Lanka to have foreign judges run the war crime probe focusing particularly on the last few days of the conflict. But President Maithripala Sirisena later said he would not agree to having foreign judges.
"How can you talk about investigations and foreign judges at the same time bringing these communities together?" he told a Foreign Correspondents Association of Sri Lanka late on Monday.
"By trying to do these things, you only try to bring people apart. If you think like that, there won't be reconciliation at all. After a war, what can we do? Going back and harping on these things will never bring communities together. That will widen the gap."
He also said that when Tamils talk about war crime probes, ethnic majority Sinhalese speak of the massacre of Buddhist priests and police and the horrors they experienced during the war, and that that could slow the postwar healing process.
The government has already launched some related investigations into alleged war crimes, but ethnic-minority Tamils have complained about the sluggish pace of probes.
Former leader Mahinda Rajapaksa's government rejected visas that would have allowed U.N. investigators to visit the island nation.
Gotabaya Rajapaksa, 67, also denied allegations that he was involved in maintaining death squads, in attacks on journalists, and in some financial misappropriation during the war.
Under the new government, he is facing police and financial crime investigations.
As defense secretary, he was the highest-ranking civil servant in Sri Lanka's Defence Ministry.
(Reuters)
Latest Headlines in Sri Lanka