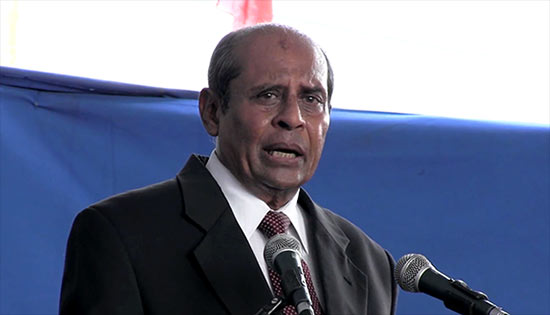 Foreign Minister Tilak Marapana, PC, yesterday said foreign judges couldn't be accommodated in domestic judicial mechanisms in accordance with the Constitution.
He said so when The Island asked him whether he, would as a former Attorney General, in addition to his newest responsibilities look into the Geneva Resolution 30/1 co-sponsored by the ruling UNP-SLFP coalition at the Geneva-based United Nations Human Rights Council (UNHRC) in Oct. 2015 meant to establish judicial mechanism to address accountability issues.
Marapana was appointed Foreign Minister following Ravi Karunanayake's resignation.
Marapana said that he deeply regretted the circumstances under which he had received the portfolio, unexpectedly. He said the government was on the right track in implementing Geneva Resolution 30/1.
Asked by The Island whether he was aware of Tamil National Alliance (TNA) Jaffna District MP attorney-at-law M. A. Sumanthiran's claim in June 2014 in the presence of the then Sri Lanka's Ambassador in Washington Prasad Kariyawasam that a tripartite consensus had been reached in respect of foreign judges, defence attorneys, investigators etc., in a Sri Lankan judicial mechanism, Marapana insisted that the Constitution wouldn't allow that.
He said that the government had explained the situation to the international community. The former Attorney General said that foreign jurists could assist the domestic mechanism.
Veteran retired career diplomat Kariyawasam, who recently succeeded Esala Weerakoon as Secretary to the Ministry of Foreign Affairs was also present when Marapana responded to media queries.
MP Sumanthiran made the aforesaid claim at 'Congressional Caucus for Ethnic and Religious Freedom in Sri Lanka' in Washington that the government of Sri Lanka, the TNA and the US had been involved in the negotiations leading to the agreement.
The event was moderated by Sadhanand Dhume of the American Enterprise Institute, a Washington-based think tank. The Caucus is an initiative launched by United States House Representatives Bill Johnson of Ohio and Danny Davis of Illinois, in November, 2013.
When The Island pointed out that the Resolution 30/1 had specifically referred to mechanisms comprising both local and foreign judges, Marapana said that as a member of the Cabinet he had examined it and the Geneva Resolution was certainly not inimical to Sri Lanka's interests and the government was in the process of implementing its recommendations.
Sri Lanka co-sponsored Geneva Resolution 30/1 on Oct 1, 2015.
Foreign Minister Marapana denied claims that the country was being pushed by the international community to implement the Geneva recommendations.
(Source: The Island – By Shamindra Ferdinando)