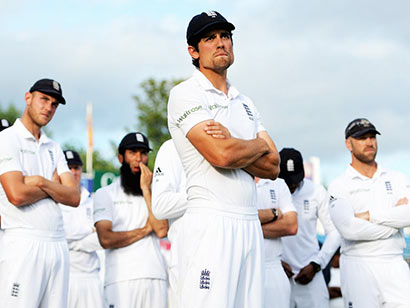 Shane Warne has launched another stinging attack on Alastair Cook, whom he believes should either step down as England captain or take a break from cricket.
The former record-breaking Australia spinner has been Cook's most outspoken critic in the last 12 months, and has clearly got under the skin of the Essex left-hander, who stated last week that he believes the judgements are becoming personal.
But in the wake of England's first ever Test series defeat to Sri Lanka on home soil, just a matter of months following their Ashes humiliation, Warne thinks Cook, whose own form has stagnated in the last year, needs to step aside .
Writing in his column for the Daily Telegraph, he said: "There are three ways to go with Alastair 'Cooked' Cook. Everyone sticks their head in the sand and just allows things to keep going as is and hope he finds form with the bat and by a miracle discovers some tactical brains from somewhere. Two: he steps down from the captaincy to concentrate on his batting. Three: the most radical of all, he has a complete break away from the game.
"Lots of people, including me, think it is time for him to step down as captain.
"The most disappointing thing for me is that he has not learned or improved after a horrible 5-0 drumming in Australia, in fact he has got worse.
"He is not thinking straight. He is not there. He is confused. He does not know what to do and because he is in a rut with his form it makes life a lot worse. You just cannot captain a team in transition in that frame of mind."
England suffered a 100-run defeat to the Sri Lankans at Headingley on Tuesday to lose the two-Test Investec series after the tourists escaped with a draw in the opening match at Lord's.
Much of the damage in Leeds was done on day four as Sri Lanka captain Angelo Mathews was allowed to compile a wonderful 160 to build his side's lead to 350 before their bowlers reduced Cook's men to 57 for five before the close.
While England came within two balls of securing a draw on the final day, thanks to Moeen Ali's century and his last-wicket resistance with James Anderson, Warne does not think that should hide Cook's shortcomings as captain.
"On Monday at Headingley I witnessed the worst day of captaincy I have ever seen at international level in almost 25 years in the game. It was horrific, and I am not the only one singing that tune," said Warne, who is the second highest Test wicket-taker of all time with 708 scalps.
"He just does not get it. Everyone watching could see the game needed a change of pace; bowl the spinner or make the seamers try and actually get Angelo Mathews out. You just cannot bowl the same stuff over after over like he did – good captains try things and are proactive, not hopeful.".
Warne also refuted Cook's suggestions that his negative comments were a personal attack as a means to undermine the 29-year-old's authority.
He said: "This column is not a personal attack and never has been, Alastair. Mate, you need to improve tactically or England need someone else in the job. And I am not the only one saying it. Please speak to (former England captains) Michael Vaughan, Nasser Hussain and other successful captains who were tough, ruthless and got it.
"Also, if I was an Aussie cheerleader, as the ECB thinks I am, I would not be criticising Cook. I would be saying keep him in the job because that would be the best thing for Australia during the Ashes next year.
"I have always been open to talking to Alastair, like I always have with any other player from any country, if they wanted a chat over a beer."
(Sporting Life)