WE HAVE BECOME THE LAUGHING STOCK OF THE WORLD: ARJUNA
Posted by Editor on August 20, 2010 - 10:11 am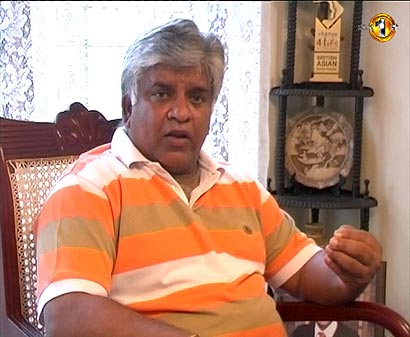 Source of News: News First
August 19, 2010: Sri Lanka has become the laughing stock of the cricketing world, says former cricket captain Arjuna Ranatunga. Commenting on the recent No-Ball fiasco, he said that our Cricket Board, instead of letting the match referee to take a decision on the issue, had jumped the gun and had apologised to the Indian Cricket Board.
Following the recent No-Ball controversy, cricketer Suraj Randiv was suspended from playing in the 4th one day international against New Zealand, which was to be played today but was postponed for tomorrow owing to rain.
He was fined his match fee for the match against India, according to the official website of the Sri Lanka Cricket.
Continuing his views on the debacle, Arjuna Ranatunga observed that:
"In one way, I will say that if Suraj Randiv was advised by the cricketers or he deliberately did this, I'm sure it is not proper cricket.
"But on the other hand, he hasn't done anything wrong. If he has done something wrong, I'm sure that the Match Referee would have got involved, had an inquiry and after that he might have given the punishment.
"We are surprised to see our own Cricket Board punishing three of our cricketers for whatever happened in the middle. What they should have done was to wait till the tournament was over, and have an inquiry, discuss with the cricketers, and they should have advised the cricketers.
"And the worst part is, what is the reason for our Cricket Board to go and apologize to the Indian Cricket Board?"
"These are things that did not happen in the past. We looked very cheap, especially the Sri Lanka Cricket Board looked very cheap. I think that they are under the influence of the Indian Cricket Board.
"And the important part is, when these things happen, who takes the responsibility? We are the laughing stock. While we do these things, foreign cricketers and people must be laughing at us.
"When we put the wrong people into these positions, we should expect these things. I'm sure the government should take the blame for this," said Arjuna Ranathunga.
News First
Latest Headlines in Sri Lanka