No one can stop me from serving Kelaniya: Mervin
Posted by Editor on August 20, 2010 - 11:45 am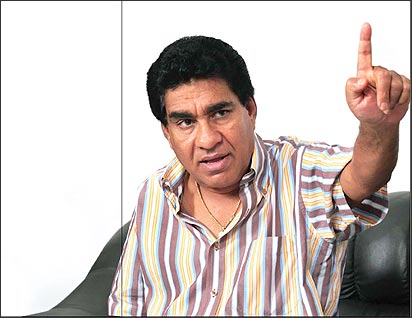 Source of News: Ada Derana
No one can stop him from serving the people of Kelaniya who had elected him. None can destroy the integrity and dedication he has, though he has lost the Deputy Minister post given him because of the people of Kelaniya, said former Deputy Minister Mervin Silva during a musical show at Kiribathgoda Thursday evening.
He will continue to serve the people and break what needs breaking and build what needs to be built. There is still a lot of work to be done for Kelaniya and he will do them, vowed Gampaha District parliamentarian Mervin Silva who was stripped of his Deputy Minister's post over the incident of tying a Samurdhi officer on to a tree.
"I organised this musical show to lighten the hearts of those who are sad over my losing the ministerial post," Mr. Silva said.
He added that some lighted fire crackers when they heard the news of his losing the Deputy Ministerial post. He said that all he can do was to congratulate and wish them well and urge them to light more fireworks. At the same time he warned those who lighted the fire crackers not to blame him when they slip in the process, fall and injure themselves. "Don't blame me when you injure your heads after banging them on rocks," he added.
Ada Derana
Latest Headlines in Sri Lanka