'We have no military agreements with China' – Sri Lanka President
Posted by Editor on June 27, 2023 - 8:29 am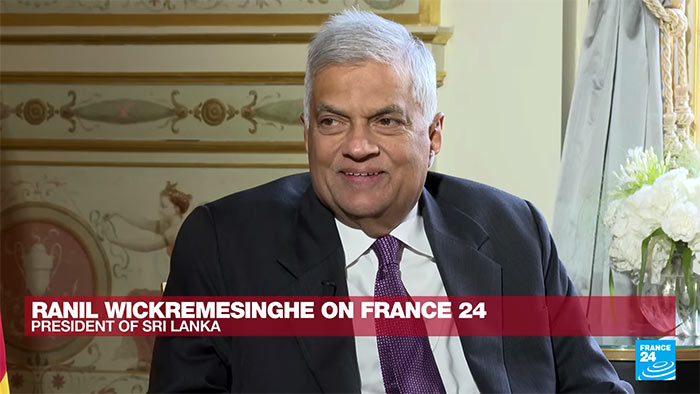 There are no military agreements with China and there won't be any military agreements, Sri Lanka President Ranil Wickremesinghe said during a media interview with 'France 24' website on Monday (June 26).
The interviewer asked about China's alleged presence in Sri Lanka, asking if there were any reports in the American media regarding potential military involvement and whether it could be ruled out for the future.
President Ranil Wickremesinghe responded by stating that he doesn't believe China would engage in such an agreement.
"The Chinese have been there for about 1,500 years and so far there has been no military base. There is speculation about the Hambantota harbour. It has been given out to China Merchants, but the security is controlled by the Sri Lankan government. The Southern Naval Command will be shifted to Hambantota.
We have one brigade stationed in Hambantota and nearby areas. There has certainly been no issue of military use by the Chinese. The same company also runs a terminal in Colombo harbour, in the South Port. That is why the warships come from all the countries. No one is complaining about the terminal; they are running around Colombo, but they are only complaining about the terminal. The port that they are managing is Hambantota.
Therefore, we have no military agreement with China; there won't be any military agreements, and I do not think China will enter into one.
We are a neutral country, but we also emphasize the fact that we cannot allow Sri Lanka to be used as a base for any threats against India."
Latest Headlines in Sri Lanka