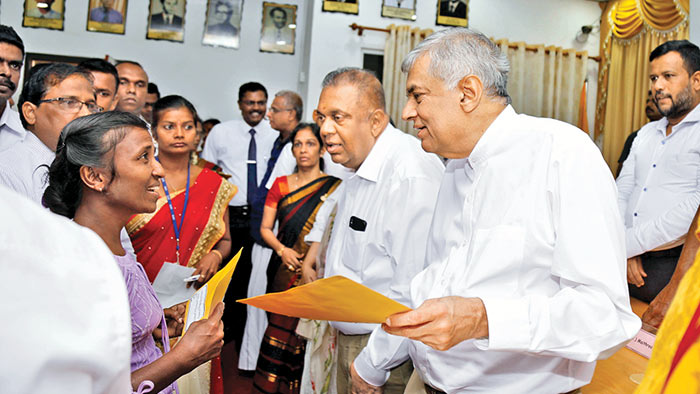 JAFFNA: Leading the Government delegation to rollout Enterprise Sri Lanka in Jaffna yesterday, Prime Minister Ranil Wickremesinghe reminisced about the glory days of the Northern district, saying it was only rivalled by the district of Colombo before three decades of war destroyed the socio-economic fabric in the region.
Jaffna also had the best education system in the past, but now all those educators were living overseas, the Premier noted. The Government was focused on rebuilding the region's industries like sugar and coconut, and had set its sights on developing the Palaly airport and the Kankesanthurai Harbour, he announced.
Recalling that today (23) marked 35 years since the Black July communal riots, Wickremesinghe said he had been in the capital Colombo when the bodies of 13 soldiers killed in Jaffna were brought into the city, setting off the violence. "It spread through July 23rd and 24th – because people were provoked and reacted violently. The LTTE got a golden opportunity," the Premier said.
"The legacy of the war still lingered, the Prime Minister noted, because even though the war ended in 2009, peace had remained elusive. "So many people are still missing, we need to figure out how to resolve this issue – in the South meanwhile, there are fears of a LTTE resurgence," he added, explaining that the country was still in post-war recovery.
"It was important to work together to put the country on the right track," Wickremesinghe noted.
"Extremism won, the country lost," the Prime Minister said. "But we can catch up."
(Source: Daily News)