WE NEED TO STAND AGAINST THUGGERY AND DICTATORSHIP SAYS ANOMA
Posted by Editor on February 2, 2011 - 3:05 pm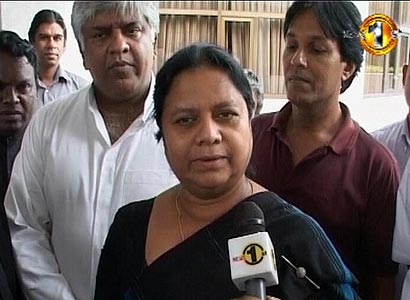 Courtesy: News First – Pix by Getty Images
A protest was staged in Colombo yesterday, stating that a proper investigation may not be carried out into the fire that gutted the office of Lanka e news.
The protestors pointed out that various acts are still being carried out against the media.
The protest was staged opposite the Lipton Circus in Colombo.
Members of media organizations, political party representatives belonging to the opposition and civil society activists took part in the protest.
The protesters staged their demonstration near the Lipton circus and subsequently engaged in a protest March.
Several individuals who engaged in the protest expressed their views to the media thereafter.
"We believe that the government is not giving the necessary instructions to the security forces and the police, to arrest the perpetrators and to take the investigation forward. We would like to challenge the government to bring all suspects connected to attacks against the media before the law," said Lasantha Ruhunage, General Secretary, Sri Lanka Working Journalist Association (SLWJA).
"We would like to request society to come forward against the anti democratic conduct of the government in order to ensure democracy and media freedom in this country," said Dharmasiri Lankapeli, General Secretary, Media Employees Federation (FMETU).
"We need to stand against thuggery and a dictatorship. Everyone knows what has happened to my husband, General Sarath Fonseka. We do not know how many will face this situation. Everyone is aware about what has happened to Ekneligoda. As women, we will stand against all anti democratic forces and also against thuggery," said Anoma Fonseka, Wife of Sarath Fonseka.
Latest Headlines in Sri Lanka