We oppose Govt's move to obstruct Gen. Fonseka from attending Parliament – Vijithe Herath
Posted by Editor on July 17, 2010 - 12:00 pm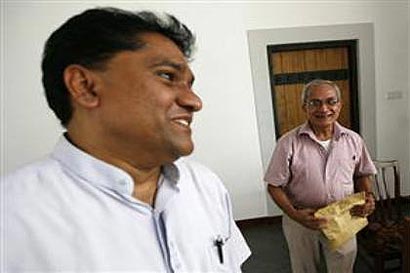 The government is attempting to weaken the opposition and is preparing on a journey of dictatorship states DNA. The General Secretary of DNA Vijitha Herath has issued a press release regarding withdrawal of permission for Gen. Fonseka to attend the Advisory bodies of parliament.
In his statement Mr. Herath states, "The government is violating Gen. Fonseka' right to participate in parliamentary activities ignoring even court decisions. Gen. Fonseka was not permitted to attend the Advisory body of Health Ministry held at 9.30 a.m and the Advisory body of Public Administration and Home affairs held at 2.30p.m today.
When Gen. Fonseka's case was taken for trial by the Colombo Magistrates on 23th June, the court ordered to keep him under the guardianship of Prison Department. The court further ordered to detain him at Navy Head Quarters under the guardianship of Prison Department.
As such, Gen. Fonseka is a suspect of the civil court kept under the guardianship of Prison Department so that only Prison Department should take the decisions about him and not Sri Lanka Army. Further the court ordered to give permission to Gen Fonseka to participate in all the sessions of selection committees and advisory committees of Parliament in which he represents as a member.
However he was not permitted to attend a session of an advisory committee held this morning in which he is a member. Officers of Navy Head Quarters said that the Army Commander had not given an order to release him. As a Member of Parliament Gen. Fonseka needs not get permission from the Army Commander to participate in parliamentary affairs. Now he is kept under guardianship of Prison Department not the Army. Accordingly, it is obvious that the government uses the Army Commander to violate the rights of Gen. Fonseka as a Parliamentarian. On the other hand the government has infringed the court order. The court has ordered to give him all the facilities to attend Parliamentary sessions. Here the government is violating the court order.
" While suppressing democracy and preparing for despotic, dictatorial journey the government seems to trivialize dignity of the court and sovereign of law. It is a bad example of the government for ignoring the law of the country as such and it is needless to say that it will drag the country towards an abyss that would be destructive to all. The government paves the way for a despotic family regime while weakening the opposition, harassing persons who bear opposite views and violating democratic rights of the people. As Democratic Peoples Alliance, we emphasize that we never allow our country to put in to such circumstances. We request all Sri Lankans to come forward without disharmony to stop the anti-democratic journey of the government and to protect dignity of the Judiciary and the law of the country."
Lankatruth.com
Latest Headlines in Sri Lanka