Constitutional reforms: TNA, JVP also to be invited for talks
Posted by Editor on July 17, 2010 - 7:05 pm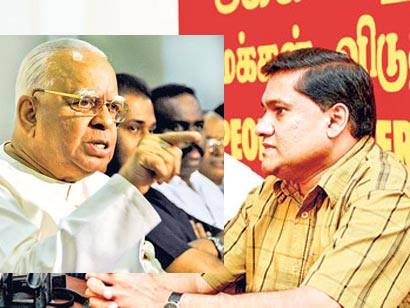 The government said yesterday the Tamil National Alliance (TNA) and the Janatha Vimukthi Peramuna (JVP) would also be invited to take part in the ongoing talks on constitutional reforms.
It said the government and the United National Party (UNP) had arrived at a consensus on several major issues.
Senior Minister Nimal Siripala De Silva told a news conference that electoral and constitutional reforms would be introduced soon and several committees representing the opposition have been appointed to work out the details.He said the discussions between President Mahinda Rajapaksa and UNP leader Ranil Wickremesinghe and the second round of talks that followed between the two groups were fruitful.
Both groups reached consensus on some major issues such as the abolishing the executive presidency and the setting up of the post of executive prime minister; to do away with the PR system and to reintroduce the first-past-the-post system and the ward system where applicable.
"We expect to arrive at a final decision as early as possible. We like to introduce these proposals tomorrow if possible. However, we feel there must be a broader consensus among all the political parties, the people and all other stakeholders to this national issue. As such we expect a healthy and genuine dialogue before presenting the electoral and constitutional reforms in parliament, the minister said.
He said the government expected an active and pragmatic approach from the UNP, the JVP and the TNA in carrying this process forward.
"We have a real chance this time as there is a broader agreement from almost all sections of society," he said.
Commenting on the 17th amendment, Minister De Silva said the government was for the independent commissions.
"We can discuss and arrive at a consensus on the powers to be vested with the executive prime minister, his term of office and the way he or she must contest at elections. We have agreed that the executive prime minister must sit in parliament, be answerable and accountable to it," he added.
DM Online
Latest Headlines in Sri Lanka