We should not get carried away by Murali's farewell – Sangakkara
Posted by Editor on July 18, 2010 - 5:56 am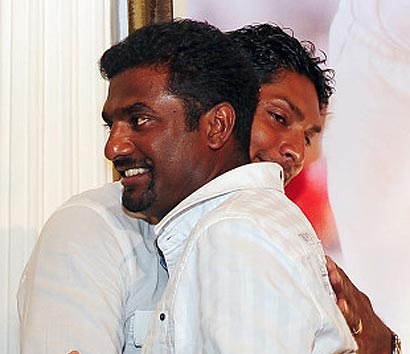 As Muttiah Muralitharan prepares for his farewell Test, Sri Lanka captain Kumar Sangakkara has cautioned his team not to get carried away by the occasion and instead concentrate on beating India in Galle.
"As a team, the best we can do for Murali is to make sure we don't get too overwhelmed or carried away with what's happening but concentrate on really giving him a good farewell by playing a great match out there," Sangakkara told reporters on the eve of the first Test.
"The danger always is that you get distracted. The key is not to resist what's happening around you, but just to relax and enjoy it and not worry about so many things. You've got to understand it. There is nothing that our team won't do for Murali. He's done so much for us this is just a little thing that we can do for him."
The return of Lasith Malinga to the Test side after almost two-and-a-half years, since he suffered a knee injury, Sangakkara said, was a major boost to the side; Malinga's last Test appearance was against England in December 2007. "Malinga's worked so hard to get where he is now it's a credit to him that he is out there fit and ready to play," Sangakkara said. "It gives us a huge X factor and that's really important going into a Test match. He is a guy who can trouble any batsman in the world with his variation. We look forward to him to try and make an impact. If he doesn't, just him being a part of our side gives a big boost."
Sangakkara also confirmed Ajantha Mendis, who was left out of the squad for the first Test but bagged 6-67 in the tour game against the Indians, would return for the second Test at the SSC in Colombo. "Ajantha has just shown in that practice game that, no matter what anyone says about him, he is one of the best spinners in world cricket. He will continue to be that and he's probably found out a few more things that worked for him," he said. "If we have guys like him and Lasith all in the mix, it gives us huge chances of beating other countries. When he joins us in the second Test, he will have a great chance of proving a point to everyone and making sure that he is up to the task when entrusted with it.
"We've got quite a strong squad and different combinations to pick from. The key is to make sure we pick a good combination if we have to take a couple of risks doing that. We've got to do it and make sure we get the basics right – put runs on the board and allow our bowlers to try and put pressure on the Indian batsmen."
Sri Lanka boast a strong batting line-up until No.7, though, it will be interesting to see who will partner Lasith Malinga if they opt for a bowling combination comprising two fast bowlers and two spinners. Left-arm seamer Chanaka Welegedera, who made his Test debut in Galle three years ago, looks likely to play, but he will be under considerable pressure from Dilhara Fernando and Dammika Prasad. Left-arm spinner Rangana Herath could be Murali's spin partner.
When asked how the game would cope after Murali's retirement, Sangakkara said: "Cricket, like life, goes on. It didn't stop for anyone. There's been (Don) Bradman and (Garry) Sobers, all of them have come and gone and cricket's gone on. The only good thing is that when players like Murali and the other greats like Bradman and Sobers play and go, they leave cricket a better place."
He also lauded Murali for overcoming several challenges, especially the scrutiny over his bowling action. "He is one gutsy determined guy," Sangakkara said. "I don't know who didn't believe in him or who doubted him. I've known there have been many people around the world but for us there was absolutely no doubt. Even before [Ross] Emerson and [Darrell] Hair, we had no doubt in our mind that he was the best bowler in the world, he's absolutely clean.
"It would be interesting to see how other bowlers around the world could go through such rigorous testing, bowling with a cast on their arm; whether they can stand up to that scrutiny and come away with it, not just with a clean action but a strong mind."
Murali is eight short of 800 wickets in Tests, and Sangakkara said if he achieves that milestone, his team will probably have taken a 1-0 lead. "The eight wickets (he needs to get to 800 Test wickets) is the farthest thing from his mind. For him it's winning this match for us. We are just going to let him run free and just enjoy himself. If Murali takes eight wickets we will probably win the game."
Cric Info
Latest Headlines in Sri Lanka