Sri Lanka upbeat ahead of labour rights talks with US team
Posted by Editor on July 18, 2010 - 3:26 pm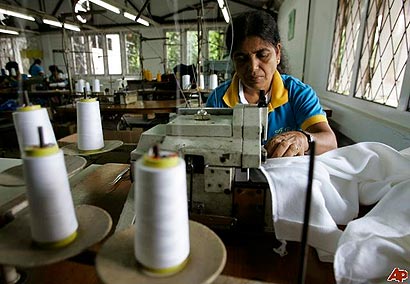 The government is to hold talks with a top-level US delegation that is due to arrive here later this month in a bid to save tax concessions for local exports to that country, a senior official said last night.
Labour Secretary Mahinda Madihewa told The Sunday Times that the government had already briefed US officials on workers' rights and welfare. The issue is believed to be a pre-condition for more US GSP Plus tax concessions and Mr Madihewa said he was confident that the talks with the two-member delegation would be successful.
The delegation, which will be in the country for two days, is set to discuss a wide range of issues with government officials, industrialists, trade union leaders and others. They will also review the ground situation of workers' welfare and rights before handing over their report to the US State Department.
"Sri Lanka can boast to be one of the very few countries in the Asia Pacific region that has a clean record on workers' welfare and rights. The US visit and their subsequent finding will not be a threat to the US trade concessions," Mr. Madihewa said.
He said the US reaction was the result of a joint petition from eight different local trade unions who had alleged various violations of workers rights. "Earlier the US tax concessions were tied to human rights guarantees and other related issues but for the first time it has brought in the workers factor," Mr Madihewa explained.
Trade unionists were, however, upbeat yesterday on the US visit saying that the government would now be forced to look more closely to the rights and welfare of the workers or risk losing the tax concessions. Anton Marcus with the Free Trade Zone and General Services Union warned that the Government was taking matters lying down anticipating to convince the US delegation with more false promises as they had done in the past.
"This time it will not work since we have compiled a comprehensive dossier which will force the government to have a re-think on their current position taken towards the workers rights if it does not want to face a similar crisis like the European Union (EU) issue," Mr. Marcus said.
"The government must change its 'gung-ho' attitude. The US market is as important as the EU. The relevant authorities should have a re-think or else the local export industry will slowly slip into the doldrums," – Progressive Union president Palitha Athukorale warned.
He explained that unlike the issues with the EU the US concessions are tied up with workers' welfare and rights and that a damning report to the State Department could have a negative impact on exports.
The US delegation is led by Michael. J Delaney, Assistant Trade Representative for South Asia, and the visit comes after Washington accepted a petition from the American Federation of Labour and Congress of Industrial Organisations (AFL-CIO) to review the standard of workers' rights in Sri Lanka.
Sunday Times
Latest Headlines in Sri Lanka