WE SHOULD NOT WORK FOR MERE POLITICAL AIMS, SAYS NAMAL RAJAPAKSA
Posted by Editor on June 22, 2010 - 2:35 am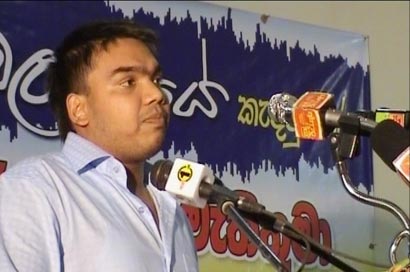 June 21, 2010: We should not think about our personal aspirations and not work for mere political aims, says parliamentarian Namal Rajapaksa.
As a country with a strong political environment the aim of all of us should be to develop the country for our future generation, he said addressing a function in the Ambalangoda area, organized to declare open the new building of the Ambalangoda Pradeshiya Sabha and the park for hired vehicles.
The function was also attended by chief minister of the Southern Province, Shan Vijeyalal de Silva.
"Today there is a politically strong parliament, provincial councils and local government bodies are strong. What is left is to carry out the work with your support for the future of little brothers and sisters and for the future of the unborn generations of the country," said Namal Rajapaksa.
"Without working for mere political aims, we should develop the country for future generations. Think about these children and not about your personal aspirations. Let's get together for this," he said.
Newsfirst.lk
Latest Headlines in Sri Lanka