We should stop giving excuses – Sanga
Posted by Editor on December 26, 2011 - 9:36 am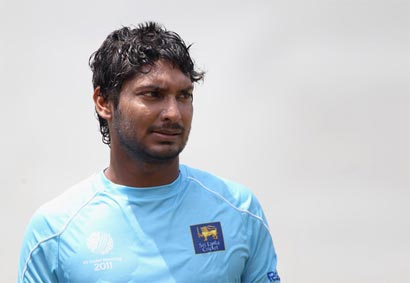 For the national cricket team this year has been a tough one, but for star batsman Kumar Sangakkara it's been the opposite. Apart from leading the team to the finals of this year's World Cup, Sangakkara has scored over 1,000 runs in ODI cricket and is getting close to the benchmark in Tests. This year, apart from scoring his maiden Test hundred in England, he stunned world cricket when he delivered the annual Colin Cowdrey Lecture at Lord's in July.
As the year comes to an end, Sangakkara summed up 2011 personally and on a team perspective. Here he speaks on what the team needs to do to get back to winning ways, what went wrong at Centurion and being happy for Dilhara Fernando after backing him as Sri Lanka captain. He also speaks on looking forward to see Mahela Jayawardene complete the long awaited milestone of 10,000 Test runs and lots more.
Here are the excerpts:
Question: Obviously Sri Lanka could not do practices at Kingsmead here in Durban on Friday and Saturday due to rain. How big a drawback is it leading up to the second Test?
Sangakkara: It's frustrating when there is rain about. But you know we have experienced that many times over. The first Test ended inside three days at Centurion, so we made use of the fourth and fifth days as good practice sessions. We had a couple of off days here in Durban. We wanted to get back into things as soon as we could. The indoor nets are there and the guys are ready to work hard and prepare for the wickets in Durban.
Question: What has gone wrong for the team in the last few months?
Sangakkara: If you look back at the past six months we have repeated the same mistakes unfortunately. Those are things we can't excuse ourselves for. When you have lot of excuse around you, it doesn't work. We need to work hard on every aspect of our game from physical fitness to skill work and the mental side of things just to be as tough as we can and keep working every day on those aspects in practice. Results are there for us to change and when we make mistakes we have to take responsibility. In the same way when we win everyone celebrates. Those are the kinds of concepts we believe in.
Question: How important is it for being at the right frame of mind to succeed?
Sangakkara: It's always been crucial, not just now. Whether you are playing at home or away to create an environment which is tailored to customize individual players to be at their best, performance wise. We have got caught in saying that we have done this way before and it has worked for us and why change now. I think change is very necessary, especially from the mental side of things. If you take the best performing side or the sides that are chasing them, the difference probably is the mental side of things. It's not skill or the technique. I think everyone is very, very similar at this stage. But being tough when the pressure is on and being able to exert pressure for longer periods is what you need. Sometimes it's just more mental than physical.
Question: How much was technical faults of batsmen were a contributory factor to the loss at Centurion?
Sangakkara: If you take that game, we scored 180 in the first innings and we were 150 for four at one stage and probably should have got another 100 runs at least on that track. When South Africa batted, we didn't use the new ball very well. We had a great chance of getting them out for 250 with the amount of good balls we bowled. But as I have always said, you can't bowl one good ball every three overs. You need to make every single ball count. The more good balls you bowl, the more times you hit the correct lines and lengths, the more chances you have of getting wickets, especially on a track like Centurion. I don't think the 400 plus South Africa total reflected on what that wicket was. They batted really well, but I think we allowed them to get away with quite a few things. Batting wise there has been a question mark over the last six months. We need to get 300 plus totals on the board to get results going our way.
Question: Coming to Kingsmead, what memories does the ground give you? (Sangakkara's first Test half-century was scored here)
Sangakkara: My first Test away from home was here at Kingsmead. I remember facing Mfuneko Ngam, at that time the fastest bowler I had faced. Unfortunately he was prone to quite a lot of injuries and he is not playing anymore; pretty happy as a batsman in that way. It was a Test Match we fought hard to draw here. We tied with South Africa in the World Cup here in 2003. It's been a wicket where if you do well and if you take the little opportunities, you get the results go your way. India beat South Africa here the last time they were here. It probably won't be the same kind of track the Indians got, but you know that it's something again for us to work with and it's up to us to change the patterns and this is an opportunity for us to do that.
Question: Will there be some chat out in the middle during the game like it has happened between the South Africans and you at Kingsmead previously?
Sangakkara: I don't think so. It's been strange. Over the years it has been a case where that kind of aggression has gone out of the game. It might not be as colourful as it used to be. Players get on a lot better now because of the amount of cricket you play, away from international cricket, as team-mates in T-20 cricket. Once in a while, you will have something to say but it's always best to score the runs and get the wickets and beat a side that way.
Question: The fact that South Africa have lost their last three Tests here at Kingsmead must be in the back of your mind?
Sangakkara: It is. Every opportunity is another chance for us to take and work with and get results going our way. We need to change it around and we need to change it around now. Like winning, losing can also become a habit and that's' the danger. So for us to go into this Test Match thinking that South Africa don't have a good record here is good, but at the end of the day, it's up to us to deliver on that, to bat well especially in the first innings, fight for every opportunity. You will get good balls, not that all seven batsmen are going to be successful. We have seven batsmen and of those seven batsmen three people need to fire and everyone else bat around them. Get a collective fighting total of over 300 and then let's see what happens after that. I think we've got the batting and we just need to keep believing in ourselves.
Question: There's been quite a bit of criticism on Dilhara Fernando, but when you were captain you had big faith in him. It must be a good feeling that he delivered at the Centurion?
Sangakkara: He bowled really well in the UAE, in the ODIs we played there. As I said, consistency is going to be the key. Like you said, if you leave room for criticism, there will be always criticism. It's up to the player to deliver day in and day out and consistently be good. Once in a way you will have an off day whether you are a bowler or a batsman. But if your consistency is good, then you will deliver quality performance to the side more often than not. That's what everyone should be working on. Reaching that stage of excellence where you are in the record books and you have the statistics to back it up and you keep proving, not just the critics around, but to yourself that you are doing everything to the best it can be. That's the key to performance, work on everything, cover your basics and on match days, deliver.
Question: How much of a contributory factor has the absence of bowlers like Muttiah Muralitharan and Lasith Malinga been to Sri Lanka's struggle in Test cricket this year?
Sangakkara: That's the reality. We can keep making excuses, but the fact is we have won Test Matches without Malinga and without Muralitharan even when they were playing and when they had injuries, and we still beat the best sides in the world. As long as we are making mistakes saying we don't have this and that, it's not going to work for us. That's the way cricket works. Bradmans come and go and so does the Muralis. But there are people to take their places. They might not be as great as them, but they will win matches in their own way. If individuals don't do it, then it becomes a team effort. That's the beauty of cricket. For us as a unit, the less the excuses we make, the better it will be for ourselves. Whether we win or lose, the responsibility is ours and thatsomething we have to accept now and let the commentators and newspapers talk about whom we don't have. But we need to be able to tell them that we are capable of doing things whoever we play because the best 11 always play.
Question: On a personal note, how do you sum up 2011?
Sangakkara: It has been a great year personally. But at the same time it has been disappointing that we didn't win the crucial games like the final in the World Cup. Then we have lost to England, lost to Australia at home and to Pakistan. On a personal note, results wise and batting wise, I have had a very good year, but if you talk of winning, I don't think we have done well. Up until the World Cup, we had done exceptionally well. We had beaten the best sides in the world. We defeated Australia for the first time in 26 years in Australia and stuff like that, but there are lots of disappointments. We lost a second World Cup final within four years. And then for us to have new players come in and have a situation where we have lost more than we have won; that's not the ideal place to be. You've got to balance your personal achievements with your team's achievements. There have been very happy moments and very disappointing moments. It's like life; you don't get everything going your way. The key is to keep fighting and to have a plan and a base where you build from there. When I look at the new guys coming in, they are great players. They are here because they are the best. We need to have for them a culture which they can believe in. A team ethic they want to be part of and to inspire them to become the Muralis, Jayasuriyas, Atapattus and Aravinda de Silvas we have had. Inspire them and show them the way to do that. Once we get them to believe in themselves, I think we can turn all these results around. It's great to talk romantically about what it is, but at the end of the day, it's about sweating out in the nets and it's about doing the basics as well as we can. And just be tough enough to go out there in hard conditions and deliver the 30 that might win you the game. Every day, it won't be a hundred that wins you the game. Maybe ten runs at a crucial stage. Be as tough as nail. Cricket is very old fashioned in that sense and it has not changed. It's hard work every day without change.
Question: It's not realistic, but given the opportunity, would you have done things differently?
Sangakkara: With captains there's individuality they bring with them to the job. It's very important. Even in the side to respect individuality is important. That's what makes the side great and interesting and play well. Personally, there are things I might do better. There may be some stuff that Dilshan does different and Mahela will do different. If Angelo captains he will do something different and if it is Chandimal, he will do something different. The key is to make that difference work in delivering results. That takes a combined effort; it takes the captain, it takes the coaching staff, they've got to set a plan that works and where the team believes in and then build from there. So I think as a unit, we need to understand that number one is to contribute to the overall plan and number two is to contribute to the performance and number three is deliver to win. If you win you are good and if you lose you are not good enough.
Questions: Finally Mahela Jayawardene is one run short of becoming the first Sri Lankan to score 10,000 Test runs. Your thoughts on his contributions to Sri Lankan cricket?
Sangakkara: We all were standing up to clap him when he got run out at Centurion! To me, on record and on performance he is the best batsman that I have seen from Sri Lanka. He holds his own at the world stage with any of the greats. He's got great touch and great power, great presence of mind and I think as a batsman, for a young kid growing up, his technique and his poise are just remarkable to watch. It's been a great privilege to play with the guy. I have had some great partnerships with him and he's been a very good friend over the years and I have learned a lot from him and I am still leaning from him. I just hope he keeps going the way he does and keeps scoring the runs. There are very few batsmen who have scored 10,000 runs in both forms of the game. Those are dreams all the batsmen chase. For him to set the benchmark in Sri Lanka for everyone to try and break, that is going to be the real key for improvement of batsmen.
Courtesy: The Island
Latest Headlines in Sri Lanka