WE WERE ATTACKED JUST OFF JAELA, SAYS DR. WICKREMABAHU
Posted by Editor on December 9, 2010 - 8:56 am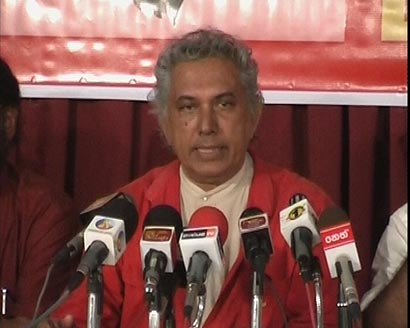 December 08, 2010: We were attacked just off Jaela, says the Leader of the New Left Front Dr. Wickremabahu Karunaratne
He was addressing a meeting convened to brief the media on the incident that he had to face at the Katunayake airport after returning from a tour in the United Kingdom. "I went to London on a private vist in response to an invitation I received to attend a forum in connection with the 88th birthday of Professor Reggie Goodwyn, a professor of the Cambridge University.y.
"The president was also scheduled to visit London on the same days. That too on a personal invitation.
"I arrived at Katunayake early December and the officials very cordially welcomed me. There were about 60 to 70 people there. While on the way home after the journey, there had been two vehicles following us. After passing JaEla, some persons who followed us from the airport attacked our van. Several persons inside the van including a mediaman was also injured," said Prof. Karunataaran.
Source: News First
Latest Headlines in Sri Lanka