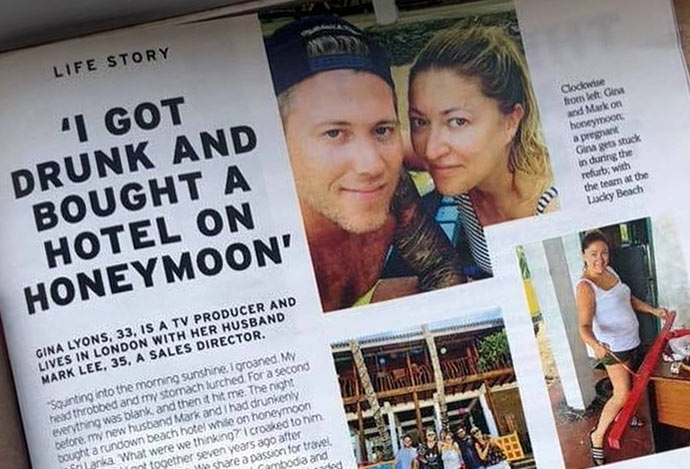 A newlywed couple got something new on their honeymoon after they bought the hotel where they were staying following a drunken night.
Gina Lyons, 33, and Mark Lee, 35, of London had a little too much to drink at a homey hotel on the beach in Sri Lanka last December and ended up with a $39,596 souvenir, according to the U.K.'s Mirror and Sunday Times.
"When we were on the beach drinking rum" – 12 glasses to be exact – "we were told that the lease was almost up for the hotel," Lyons told the Mirror. "The hotel looked grotty and very cheap, but it was by the beach and had the 'wooden tree house' feel that we like."
That is when a light bulb went off in their heads: "After finding out that it was ($13,200) a year, myself and Mark thought that it would be a brilliant idea to buy it – because we were so drunk."
The remainder of the couple's negotiations were clouded with hangovers and a language barrier that resulted in (you guessed it) more drinks.
"We had to take two friends we had made with us so they could translate for us," Lyons told the Mirror. "Because we didn't understand most of the conversation, Mark and I just sat drinking more rum and slowly getting drunk again."
After agreeing in March to pay two installments of $19,798 to take up a new lease, the honeymooners ran into some unexpected financial hurdles – legal fees, renovations and learning three months later that Lyon was pregnant.
"Our friends and family think we're idiots and shouldn't have been doing it," Lyons recalled to the Mirror. "We owed a lot of money from the wedding and only lived in a tiny flat, and now we had a baby on the way."
Casting any doubt aside, the newlyweds decided to "throw our all into it" for their growing family: "In July we officially became owners of the business."
At the end of July, they reopened Lucky Beach Tangalle, a seven-bedroom bed and breakfast, after nearly $8,000 of renovations. The Mirror reports their hotel has seen an influx of customers ever since.
In the future, the couple insist they will make all business decisions sans drinks.
(USA Today)