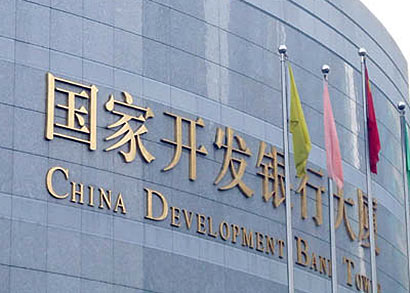 When providing development aid, Sri Lanka will always be given priority, said the Chairman of the China Development Bank (CDB) Mr. Hu Huaibang when he called on President Mahinda Rajapaksa at the China World Hotel this morning. Several senior officials of the Bank, including Director General Mr. Zhang Linwu, accompanied Mr. Huaibang for the meeting.
Expressing gratitude to President Rajapaksa for Sri Lanka's close cooperation with the Bank, Mr. Huaibang said that he is looking forward to further enhancing the relationship in the future. He also mentioned that the Bank is a partner in many of the agreements signed between Sri Lanka and China yesterday (May 28) with the construction of the new Colombo-Jaffna expressway being one of the major projects among them.
Established in 1994, the China Development Bank is China's biggest financial institution that provides development loans to foreign countries. By the end of the first quarter of 2013, assets of the Bank exceeded $1.5 trillion.
President Rajapaksa thanked the Bank for assisting many infrastructure development projects in Sri Lanka and expressed hope that it would continue to assist the country in future initiatives, including the completion of the Moragahakanda Reservoir Project, which was initiated with financial assistance from the Bank.
Mr. Huaibang said the Bank will give highest priority to Sri Lanka's requests for development assistance.
Having ended the 30-year long terrorist war from the country in 2009, the government is now emphasizing equal development throughout the country, President Rajapaksa added. While the average economic growth rate of the country is 7.5 to 8 percent, the growth rate in north is 22 percent, President Rajapaksa informed the Bank officials. He said it clearly demonstrates the priority the government has given to the restoration of infrastructure facilities destroyed by the terrorists.
While inviting the CDB chairman to visit Sri Lanka, the President also agreed to a proposal by the Bank to establish a separate institute to better manage development aid.
Minister of External Affairs Prof. G.L. Peiris, Secretary to the President Mr. Lalith Weeratunga, Secretary to the Ministry of Finance Dr. P. B. Jayasundara and Sri Lanka's Ambassador in China Mr. Ranjith Uyangoda joined the discussion.
(Courtesy: President Media)