Why didn't MR oppose ETCA and Mattala PPP deal in India: UNP
Posted by Editor on September 14, 2018 - 10:13 am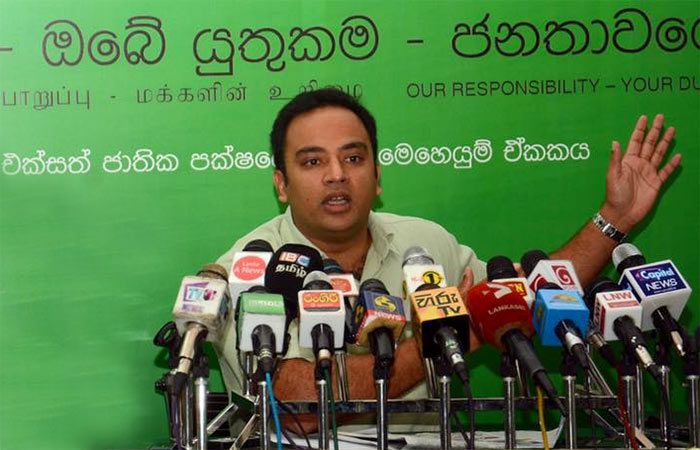 The UNP yesterday questioned as to whether former President Mahinda Rajapaksa opposed the proposed Economic and Technological Cooperation Agreement (ETCA) and the Public Private Partnership deal with regard to the Mattala Airport during his visit to India in the same way he opposed them in Sri Lanka
UNP MP Harshana Rajakaruna told a media briefing that it was funny not to hear reports which said the former President had opposed the proposed deals which the Sri Lankan government is planning to get into with India when he met the Indian Prime Minister on Wednesday. "We have seen the former President opposing the proposed deals with Indian whenever he is in Sri Lanka. However we did not see such a behavior from him when he visits India," MP. Rajakaruna said.
"Mr. Rajapaksa had actually stated he had not discussed the Mattala Airport deal when he met the Indian Prime Minister but had only said that he has an issue with the privatization programme of Maithripala Sirisena's government. Why has he not opposed the deal the way he does in Sri Lanka? Why did not he express his objection on the deal when he met Prime Minister Modi?" Mr. Rajakaruna questioned.
UNP MP Thushara Indunil Amarasena who also participated in the news conference said MP Wimal Weerawansa should ask the people to hoist black flags to oppose the former President's meeting with the Indian Prime Minister. " Mr. Weerasana asked the people to hoist black flags when Prime Minister Modi was visiting Sri Lanka for the International Vesak festival. He should ask the people to do the same when former President returns to the island after meeting the Indian Prime Minister," he said.
Both MPs said former President should have opposed the proposed deals between the Indian and the Sri Lankan government if they were genuinely opposing them.
The MPs also responded to the statement made by the former President that one of his brothers will contest for the presidential elections next year questioning as to whether there is no one else to contest for the post other than the Rajapaksas. They also said Mr. Rajapaksa should mention as to which brother of his is going to get the candidature at the next presidential election.
(Source: Daily Mirror – By Yohan Perera)
Latest Headlines in Sri Lanka