Will discuss possible release with SF: Anoma
Posted by Editor on December 21, 2011 - 8:40 am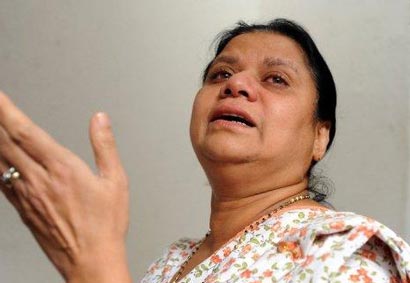 Former Army Commander Sarath Fonseka's wife Anoma Fonseka said yesterday that she would speak to her husband on discussions between Democratic National Alliance (DNA) MP Tiran Alles and President Mahinda Rajapaksa on his possible release.
Despite reports that former Army Commander Sarath Fonseka would be released next month, Fonseka's wife Anoma yesterday said that these were only rumours as she had not been informed of such a decision. "I have not received any such information from anyone. It is probably a rumour," Anoma Fonseka said.
She said there was talk of her husband's release on January 1, 2012. However she said these were only rumours which spread after Alles made statements to that effect to the media stating that he had discussions with President Rajapaksa during the past two months to release the former Army Commander.
When asked if the discussions could lead to fruitful results, Mrs. Fonseka said she would not comment further on the matter until she had discussed it with her husband. "I have to discuss the matter with my husband. The decision will be with my husband as to what could happen," she said.
Courtesy: DM Online
Latest Headlines in Sri Lanka