LLRC report will advance accountability: Commonwealth
Posted by Editor on December 21, 2011 - 2:02 pm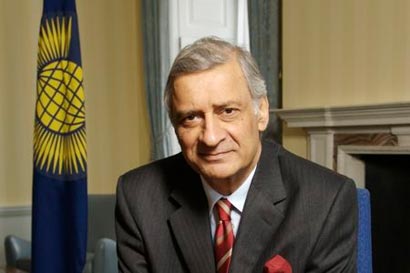 The Commonwealth has hoped that a Sri Lankan war commission report on the conflict with the LTTE will advance the cause of accountability, saying that genuine reconciliation and accountability go hand-in-hand.
Applauding the intent of transparency with which the Sri Lankan government tabled the full report of the commission before Parliament, Commonwealth Secretary General Kamalesh Sharma said the recommendations in the report should be implemented in an objective, even-handed and forward-looking manner.
"It is for the government and people of Sri Lanka to chart their country's way forward after the military defeat of the forces of terrorism," Sharma said, commenting on the report of the Lessons Learnt and Reconciliation Commission (LLRC).
"The Commonwealth, as a partner of Sri Lanka, which is a founder member of the modern Commonwealth, remains ready to assist the government in dealing with the challenges of building a harmonious and sustainable peace," he said in a press release.
The LLRC was appointed by President Mahinda Rajapaksa in May 2010 to probe the role of the nation's army in the final stages of the civil war.
The war came to an end in 2009 when the Lankan military crushed the rebels.
The LLRC report cleared the nation's army of deliberately targeting civilians in the final stages of the war against the LTTE, though conceding that some isolated incidents could have occurred.
The commission called for a political settlement of the ethnic conflict with the minority Tamils and asked the government to take the initiative for "a serious and structured" dialogue with all political parties, particularly those representing the minorities.
It asked the government to reach out to minorities and said that the Tamils should in turn reposition themselves in their role vis-a-vis the state.
However, US-based Human Rights Watch has slammed the report, saying it failed to fix accountability and "disregards" the "worst abuse" by government forces. – PTI
Latest Headlines in Sri Lanka