Will donate Aloysius money to charity: Sujeewa
Posted by Editor on June 8, 2018 - 10:36 pm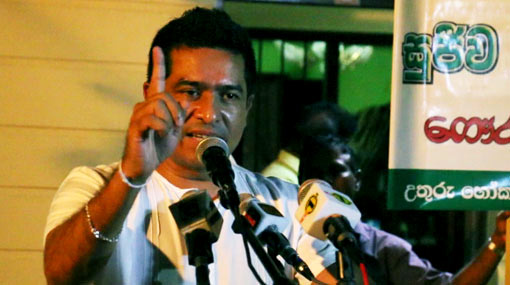 State Minister Sujeewa Senasinghe, who was accused of receiving monies from the W.M. Mendis Company affiliated to the Perpetual Treasuries Ltd. (PTL) said today that he would donate the three million rupees his campaign team had obtained to social welfare if Speaker Karu Jayasuriya or a Chief Prelate asked him to do so.
He said that he would resign as MP if any one could prove that he personally received funds from the PTL.
Addressing a press conference at his residence in Colombo MP Senasinghe said although what happened was irreversible he would do the right thing to ethically correct the fault.
"It was like having a heart attack. When I first heard of these cheques I was shocked for several minutes. Then I realised that had to face it. I did politics with Principals and I know that I have not conducted anything illegal. I will do politics until people support me and will leave when they stop," he said.
MP Senasinghe stated that the incident was a small tsunami, which struck him in his political career and was not used to such allegations, therefore he felt like he was entering into actual politics.
He also said according to the dates of the cheques it was clear that the money was supposed to have been received for the 2015 General Election.
MP Senasinghe explained that it was his crew consisting of several friends who have voluntarily conducted the election campaign for him, received the funds.
He said in 2015, there was no information that the Mendis & Company Limited were attached to Perpetual Treasuries Limited (PTL).
"Not even my friends knew about the connection," he said.
"If I knew this I would never let my campaign team receive the money as I'm not ready to put mud on me or my team by receiving Rs. 3 million for a campaign that costs Rs. 30 to 35 million," he said.
He also said that he was labelled as Footnote Gang for revealing Bond Scam damage, however; he and MP Ajith Perera were the only MPS to raise their voice in Parliament to take legal action against the Perpetual Treasuries Limited (PTL) while other Parliamentarians were just shouting holding the Central Bank Governor responsible.
MP Senasinghe added that he maintained a fund of Rs 10.1 million for women at present as a social work and therefore had no need for money from any controversial company.
(Source: Daily Mirror – By Thilanka Kanakarathna)
Latest Headlines in Sri Lanka