Will President Maithri ask Ranil to quit as PM?
Posted by Editor on November 12, 2017 - 7:49 am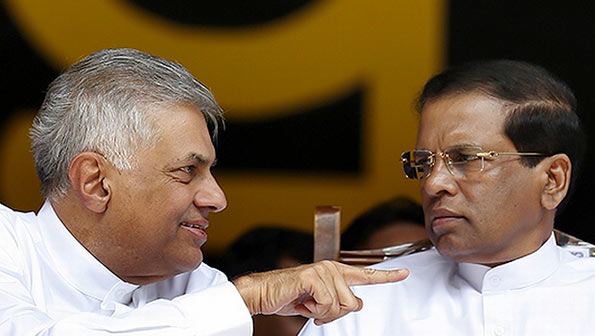 Clad in a carefully chosen blue and green tie, Finance and Media Minister Mangala Samaraweera entered the Chamber at 3.05p.m. on Thursday (9) to present Budget 2018, which was themed, 'Blue-Green Budget; the Launch of Enterprise Sri Lanka'. "It is 'Blue' because we plan to integrate the full economic potential of ocean related activities in formulating the overall growth strategy. It is 'Green' because we build our economy on an environmentally sustainable development strategy. The 'Enterprise Sri Lanka' will reawaken the entrepreneurial spirit, coming from our ancient forefathers, enabling Sri Lanka to be a vibrant trading hub and encouraging all Sri Lankans to become co-owners of a country enriched," he said.
Even though many expected the Government to come up with an 'election budget', the maiden Budget of Minister Samaraweera had focused mainly on policy implementations.
While many view the Budget 2018 as set of proposals that promises nothing major to anyone, yet implementing taxes for almost everything, there are some carefully drafted policy measures, which any other government would have otherwise not paid much attention to. For instance, it had paid attention to the trap of micro credit entities, where rural people, especially those in the North and the East, fall prey to.
Indebtedness in the rural sector targeted by exploitative microfinance schemes has become a serious issue. The small industries in the Northern Province have also not been able to revive due to both the lack of working capital and equity.
The Government will support, by way of the provision of grants and the introduction of a low interest loan scheme, to facilitate those indebted and to move out the debt trap through co-operative rural banks and the thrift and credit co-operative societies. This will be implemented on a pilot basis in the Northern and the North Central Provinces and Rs 1,000 million has been allocated in this regard.
The Budget 2018 was presented as it completed almost a week to the worst ever petrol crisis the country faced. A group of 19 Joint Opposition (JO) Parliamentarians, led by Kurunegala District MP and former President Mahinda Rajapaksa cycled to Parliament in protest against the crisis created by the petrol shortage.
The JO members, who started the bullock cart and cycle parade from the Polduwa Junction ahead of the Budget 2018, were however blocked by the Welikada Police and Parliament Police personnel at the main entrance at Jayanthipura.
Later, those who were on the bicycles were allowed to enter while the bullock-carts were not permitted.
Minutes before the Minister of Finance walked into the Chamber to present the Budget-2018 proposals, JO Leader MP Dinesh Gunawardena, raising a point of order, requested Speaker Karu Jayasuriya's intervention in ensuring the privileges of the members.
"We are entitled to free access to the Parliament. But today personnel of the Welikada and Parliament Police obstructed us. We want you to investigate this," he added.
Speaker Jayasuriya said that he was already informed about this by Rajapaksa earlier and would call for a full report on the incident.
Taking a dig at the whole incident, Finance Minister Samaraweera, during his budget speech, where he spoke about encouraging the use of green vehicles said "I think the JO clique has already opted to greener transportation. Unfortunately, their security personnel had to cycle back to where the luxury vehicles are parked."
Decisive period ahead
While Budget 2018 plans on launching Enterprise Sri Lanka, which the Janatha Vimukthi Peramuna has already dubbed as 'making Sri Lanka a private enterprise' a real political shocker came from President Maithripala Sirisena on 8 November at the Ape Gama premises where the second death anniversary of Ven. Maduluwawe Sobitha Thera was held.
While noting there are many things that he cannot come out and say in public, President Sirisena did disclose that some Government members are using the media to attack him because he appointed a Commission to inquire into the Central Bank Bond issue.
Interestingly, Ape Gama at Battaramulla is also the place where President Sirisena- who was functioning at the time as the Health Minister of the President Mahinda Rajapaksa Government, gave the first signal that he will quit the Government.
On 21 November 2014, after handing over appointments to officials in the Health Ministry he said; 'this may be my last state function', amid widespread speculation that he might break ranks with the incumbent regime.
"Time solves a lot of things. This may be my last State function. People give power not to abuse it and make money. It's given to serve the people. This power should never be abused. No one should be drunk with power," he said.
Three years later, President Sirisena chose the same venue to spell out some of his major grievances. This was following Prof. Sarath Wijesooriya, who also played a major role in electing President Sirisena to power with other civil society activists in a hard hitting speech mentioned how after three years they are forced to get disillusioned with the high expectations of a dawning good governance.
"Some in the government blame me for appointing a Commission to inquire into the Central Bank misdeeds. These individuals are making a wrong analysis of me based on that. I am attacked by spending money on certain media institutions and by reserving pages in weekend newspapers. Some in the government are giving money to media entities operating from abroad to attack me. Why is this?… because, I appointed a Commission to look into the Central Bank matter. If Venerable Sobitha Thera was alive he would have approved of what I did. I did not appoint this Commission targeting anyone in the Government or targeting any MP or Minister," he said.
President Sirisena also said that the people of this country know the situation regarding the Central Bank incident.
"At that time there was strong public opinion against the incident. There was a huge outcry irrespective of politics that there was a grave fraud that had taken place and asking for action to be taken on it and asking me to appoint a Presidential Commission. I did it."
The Central Bank incident happened just three months after forming the government. Those responsible for this should be held responsible, he noted.
"The idea of a Common Candidate was among all of us since the first Presidential Election held in 1982. But no one was able to field a Common Candidate ever until 2015.
"It was because of the leadership and dedication of Ven. Sobitha Thera that the Common Candidate was able to win the Presidential Poll in 2015, bringing victory not only to him but to the concept as well. If and when we work for a Unity Government we all must be determined to dedicate ourselves to social justice, rule of the law and good governance. We also must not hesitate to punish any who are engaged in wrongdoings. No one can protest when action is taken against wrongdoers. Unfortunately, that is my main problem. My problem is action is not taken to punish wrongdoers. All members of the Cabinet are aware of what I have spoken in the Cabinet on these issues," he added.
However, President Sirisena's unexpected grouse seems to have provoked many in the UNP. While adding that he (Sirisena) never mentioned anything of the sort when they met him about two weeks ago, a group of UNP backbenchers are planning to seek an immediate appointment with the President to 'get things sorted out'.
We need to know who these members of the government are who are responsible for throwing a spanner in the works, he hinted.
Informed sources said that President Sirisena has also indicated that he is contemplating requesting Prime Minister Wickremesinghe to step down from his post before facing the Presidential Commission of Inquiry.
According to them, the President would make the request in a bid to save the long prevailing 'Mr Clean' image of the Prime Minister and to set a precedent.
Prime Minister Wickremesinghe, who has already forwarded an affidavit providing answers to a questionnaire sent by the Commission, is expected to appear before the Commission on 20 November or a closer date.
The recent 'cold relations' developing between the President and the Prime Minister has however alerted many moderate politicians in Government and some reportedly have actually sought the intervention of former President Chandrika Kumaratunga, who is currently abroad.
According to sources, if President Sirisena is serious about his decision and yet would continue with the Unity Government, Finance Minister Samaraweera is having a good chance of being appointed as the Prime Minister. This however, will not be entertained by many SLFP seniors.
Meanwhile, a one-on-one meeting between President Sirisena and former President Rajapaksa has been scheduled to be held soon. The meeting has been scheduled as a result of continued dialogue between senior politicians from both camps reaching certain common ground on some issues. The two leaders will presumably not talk about working together for future
elections.
(Source: Ceylon Today – By Gagani Weerakoon)
Latest Headlines in Sri Lanka