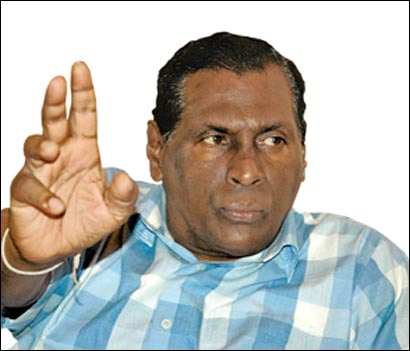 Labour, Trade Union Relations and Sabaragamuwa Development Minister John Seneviratne asked the Finance and Mass Media Minister to bring down the price of 'Gal' (extra special) arrack.
Participating in the second reading stage debate on budget proposals in parliament yesterday, the Minister said that he would speak to party leadership and get the approval of his party to bring down the price of 'Gal' arrack because that would be a great relief to the general public.
"I plead from the Minister of Finance to bring down the price of 'Gal' arrack. That is the brand mostly consumed by the common man. Bringing down the price of 'Gal' arrack would help ease the economic burden of the common man. If you need, you could increase the price of brandy. That would not affect the common man", Seneviratne said.
"It is good that the budget proposes to bring down the prices of beer. But the common men who toil in villages, estate workers, employees in gem mines usually do not drink beer. Their choice is 'Gal' arrack the price of which has been increased by a huge margin. 'Gal' arrack prices were pushed up continuously in the recent past. This caused the villagers to turn to moonshine", he noted.
The people have no choice but drink illicitly brewed intoxicants. Statistics show that excise revenue had dropped drastically during the first quarter of this year. That drop of revenue was because a large number of people have turned to moonshine, he said.
"We have no intention of promoting liquor consumption. But the truth is that irrespective of whatever policy change, whatever programs to increase awareness among people, those who drink would continue to drink. We brought the Mathata Thitha program during the last regime to discourage drinking. But that program was not successful", the Minister said..
"The daily wage earners, those who toil in mines and gem pits without seeing light, estate workers who break their backs at work have no solace but to drink in the evening. Drinking in the evening has become one of the main tasks of their daily life.
There is no point attempting to teach the crabs to walk straight. It is same when it comes to the drinking issue", he added.
"We should understand the down to earth reality. Is there any point making policies which force people to turn to intoxicants such as moonshine? Such policies would result in their early deaths. Therefore we should bring down the price of 'Gal' arrack which does not have the harmful effects of moonshine," the Minister said.
(Source: The Island – By Saman Indrajith)