Will retrieve Katchatheevu from Sri Lanka, says Tamil Nadu CM Jayalalitha
Posted by Editor on June 21, 2016 - 8:13 am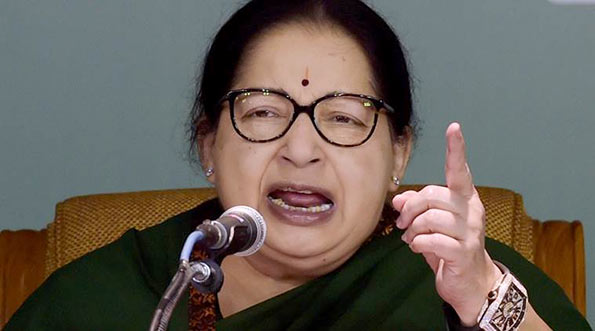 Tamil Nadu Chief Minister J Jayalalitha assured the state assembly on Monday that her government would retrieve the Katchatheevu Island, which was given to Sri Lanka by India in 1974. The AIADMK supremo said her government had been unable to take back Katchatheevu even after 25 years of efforts because of the opposition DMK.
Jayalalithaa was responding to Leader of Opposition MK Stalin when she made the statement. "By passing a resolution in the assembly, the then DMK government headed by (Stalin's father) M Karunanidhi closed the discussion on the transfer," Indo-Asian News Service quoted Jayalalithaa as saying.
"Immediately after the all party meeting in 1974, mediapersons brought to the notice of then chief minister Karunanidhi the decision of Jan Sangh leader AB Vajpayee to approach the Supreme Court against conceding Katchatheevu. But Karunanidhi refused to make any comments," the Hindu quoted the chief minister said.
"At least the DMK government in 2008 could have impleaded itself in the petition filed by me in the Supreme Court," she said.
The Katchatheevu island was ceded to Sri Lanka after an agreement in 1974, which allowed Indian fishermen to fish in the waters of the island. However, another agreement was signed in 1976 by the then Congress government, and it imposed restrictions on the fishermen wanting to fish there, the Mint reported.
Jayalalithaa had approached the Supreme Court challenging both agreements in 2008.
During a hearing in 2014, the advocate representing the AIADMK's Lok Sabha Deputy Speaker M Thambidurai and DMK parliamentarian AKS Vijayan told the apex court the dispute over the island was affecting fishermen, who would wander off into Katchatheevu while fishing and would be detained by the Sri Lankan authorities, according to the Indian Express report.
They asked the Centre to try to get the island back, responding to which Attorney General Mukul Rohatgi had said a war would break out if India tried to retrieve the island.
"Katchatheevu was gone to Sri Lanka by an agreement in 1974. It was ceded and now acts as a boundary. How can it be taken back today? If you want Katchatheevu back, you will have to go to war to get it back," Rohatgi told the Supreme Court bench headed by Chief Justice of India Justice RM Lodha in response to their request.
The Lankan authorities have arrested several fishermen for crossing the maritime borders. Last year, Sri Lankan Prime Minister Ranil Wickremesinghe, in an interview Chennai-based Tamil Channel (Thanthi TV), said Indian fishermen would be shot if they entered Lankan waters.
"Why are you coming into our waters? Why are you fishing in our waters…? Stay on the Indian side… There will be no issue… No one will shoot anyone else… You stay on the Indian side, let our fishermen stay on the Sri Lankan side… Otherwise don't make accusations of Human rights violation by the Navy. You came in there," Mint had quoted Wickremesinghe as saying.
(IB Times)
Latest Headlines in Sri Lanka