William Hague: a boycott of Sri Lanka would be wrong
Posted by Editor on November 7, 2013 - 8:58 am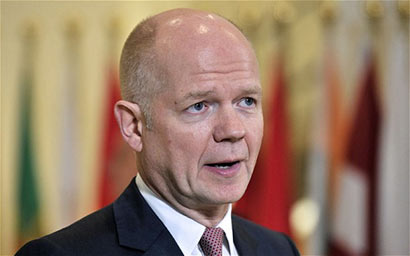 Next week, the Prime Minister and I will travel to Sri Lanka for the latest Commonwealth Heads of Government Meeting. The 53 Commonwealth countries together represent two billion people – nearly a third of our world's population – and some of its fastest-growing economies. Despite its significance, most discussion of the summit has centred on its location. In particular, because of Sri Lanka's poor record on human rights, some people are calling for a British boycott.
I am among the first to want to see change in Sri Lanka. While we shouldn't regret the end of the Liberation Tigers of Tamil Eelam's campaign of terrorism, no one can forget the bloodshed and horrific images that accompanied the end of the long conflict between them and the government. The final push in 2009 saw thousands of people killed – many of them innocent civilians – and appalling alleged violations of human rights.
Four years later, Sri Lanka is still a country where civil society is suppressed, where NGOs and the media are routinely intimidated, where journalists and critics of the government have disappeared, and where no one has been held to account for alleged war crimes including rape and sexual violence. It is completely legitimate for there to be a debate about how we influence Sri Lanka so that these crimes and concerns are addressed.
Unlike the Labour Party, which was in power when Sri Lanka was chosen to host this meeting, and which has come out at the 11th hour to say that Britain should not attend, many of those advocating a boycott have been doing so for some time. I respect their views and share many of their concerns.
But I strongly believe that a boycott would be wrong. Attending the Commonwealth summit is the right thing to do. We do no good for the situation in Sri Lanka by sitting on the sidelines. During the final stages of the civil war, the international community was criticised for doing just that. By visiting, we can see the situation on the ground first-hand, meet people on all sides of the conflict, and raise our concerns frankly and directly with the government.
The Prime Minister will visit the north, where some of the worst fighting and suffering occurred, and thousands of people are still displaced from their homes. He will be the first head of government to visit the region since Sri Lanka gained independence in 1948 – and he will meet people directly affected by the conflict. For my part, I will meet journalists and human rights activists – the very people who are courageously trying to bring about reform, and who might not otherwise ever meet a British minister or travel to the UK.
We will urge Sri Lanka's leaders to guarantee freedom of expression, to ensure justice for war crimes and to reach a sustainable political settlement that benefits all the country's communities. We will raise the cases of people who have disappeared and call for thorough, open investigations into their fate.
This is what diplomacy involves: talking to people whom you don't agree with on every issue and being ready to have tough conversations. We will have more impact doing these things than we could by leaving our chair empty.
Hosting the Commonwealth has put Sri Lanka under the international spotlight and has contributed to some improvements. Since 2009, its government has taken positive steps on resettling displaced civilians, rebuilding infrastructure, removing land mines and reintegrating former Tamil combatants into society. It has held provincial elections in the north and announced a commission on the disappeared. We welcome these steps and want to see more, and that is what we will be calling for during our visit.
We should not forget, also, that this meeting is about far more than just one country. It is about the future of the Commonwealth as a whole. We want it to be a dynamic and positive force in the world, promoting democracy and human rights and creating new opportunities for trade. This requires all its members to value the organisation, to participate fully in its meetings and to work closely together. If we boycotted the summit because Sri Lanka is hosting, we would, unfortunately, be turning our back on the Commonwealth itself.
If we are not at the table, we have no way of encouraging the Commonwealth to take a strong stand on issues that we care about deeply in Britain. We want the summit to strengthen our plans to eradicate rape as a weapon of war; to encourage freer and fairer trade between Commonwealth countries; and to ensure that the international framework that succeeds the Millennium Development Goals has the rule of law and good governance at its heart. All these things matter to Britain and to the world, and we have to be present to argue for them.
Attending the summit is not a betrayal of Britain's values – it is the way we advance them. That is as true of our discussions with the Sri Lankan government as it is for the Commonwealth as a whole.
William Hague is the Foreign Secretary
(Courtesy: The Telegraph)
Latest Headlines in Sri Lanka