Work begins on massive container terminal
Posted by Editor on December 17, 2011 - 8:17 am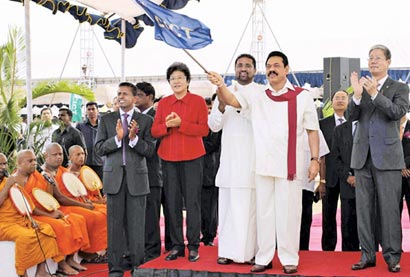 President Mahinda Rajapaksa yesterday launched the South Container Terminal (SCT) Project being carried out at an estimated cost of US$500 million or Rs.52 billion.
Sri Lanka Port Authority (SLPA) Chairman Priyath Bandu Wickrama said the first 600 metres of the SCT will begin operations in 2014 while the entire project was expected to be completed two years later. At present the container handling capacity of the South Container Terminal can handle 2.4 million 20-foot Equivalent Units (TEU).
Dr. Wickrama said the agreements to construct the SCT of the Colombo Port Expansion Project were signed by the Sri Lanka Ports Authority, China Merchants Holding (International) Company Limited, Aitken Spence PLC and Colombo International Container Terminals Ltd on November 9.
The Built Own Transfer (BOT) Agreement for the first terminal at the Colombo South Harbour, took place on August 12 in Shenzhen, China. The construction of this terminal is one of the largest Public Private Partnership projects of recent times.
The China Merchants Holdings (International) Co., Ltd. (CMHI) holds 55 per cent of the stakes in the SCT project while Aitken Spence PLC holds 30 per cent and the SLPA 15 per cent stakes with the Colombo International Container Terminal (CITC) as the operating company.
"With the Port of Colombo turning out to be the busiest port in South Asia, it has become vital to enhance its capacity. Under the Colombo Port Expansion Project, the Port's capacity will be increased to make the container port one of the largest in South Asia," Dr. Wickrama said and added that the port would be developed in three stages and each container terminal will add 2.4 million TEUs increasing the total capacity to 13.0 million TEUs.
China Merchant Group Chairman Fu Yuning told the gathering at the opening ceremony that the US$500 million investment was only the beginning of many by China Merchants in Sri Lanka.
"Given the excellent relationship nurtured and maintained between China and Sri Lanka today, I have no doubt that China-Sri Lanka relationship will grow from strength to strength and I will ensure that China Merchant is also a valuable member of this partnership," Dr. Yuning said.
Chinese Ambassador Yang Xiuping said a friend in need is a friend indeed.
"China, as always, stands ready to support Sri Lanka in its national development, social stability and people's wellbeing," she said. "The China Merchant Holdings (International) Company Limited is the largest port operator in China and ranks among the top four in the world. Aitken Spence PLC is a leading blue-chip conglomerate in Sri Lanka. China Harbour Engineering Company, is an important branch of China Communications Construction Co, Ltd, and well-known throughout Sri Lanka. It is our sincere hope that, with joint efforts of the companies of our two countries, the project will be completed with high speed and good quality."
Deputy Ports and Aviation Minister Rohitha Abeygunawardana and China Communication Co. Ltd. Vice Chairman Chen Yu Chen also spoke.
Courtesy: DM Online
Latest Headlines in Sri Lanka