Basic rights of the people have to be guaranteed first; Sujeewa
Posted by Editor on December 17, 2011 - 2:51 pm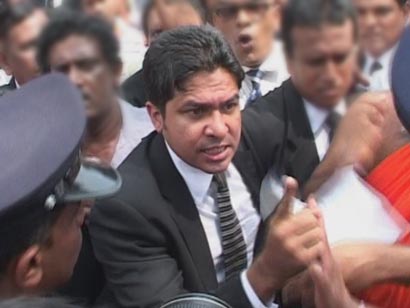 UNP Colombo District Parliamentarian, Attorney at Law Sujeewa Senasinghe said today that the government has to take complete responsibility for the alarming rate of abductions that the country has witnessed during the recent past.
Speaking to Daily Mirror online on the implications of the LLRC report Senasinghe said that the government has to first make sure that basic rights of the people are guaranteed, before any implementation. "The level of abductions prevalent in the country is alarming. The country has peace and even during the war there weren't this many cases of mysterious disappearances. The Cabinet Spokesman Keheliya Rambukwella has taken the role of the Joker of the government by making irresponsible and utterly uncalled for statements regarding the abductions. At the weekly cabinet press briefing he has the gumption to tell the country that those who vanished will return, these are the type of statements that are made in Banana Republic's and not functioning democracies," he said.
The Parliamentarian went on to add that the LLRC report had covered certain areas but some have been left unattended. "The LLRC report should be used as an instructive tool and should not be considered as the sole authority of the National question. Though the report has acknowledged the fact that the Ceasefire Agreement as required at the time was implemented under the UNP regime it has failed to make note of the fact that the breakaway of Karuna Amman and Pillayan as one of the most significant contributors to the eradication of the LTTE," he said.
Senasinghe went on to add that the clear implementation of the 13th Amendment and the removal of the military in the North has to be done immediately. "There is no war in the country and therefore there is no need of any sort of military presence in the north, we want complete restoration of a civilian administration. This will help the people who suffered for decades to actually express themselves. These basic rights should be first granted to the people in the North and East and then we could look forward to the other intricacies of the national question," Sensinghe said.
Courtesy: DM Online
Latest Headlines in Sri Lanka