Work with existing powers before devolution: Basil
Posted by Editor on August 29, 2014 - 8:21 am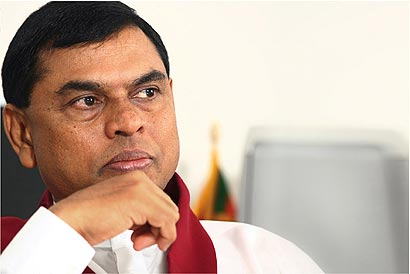 The Northern Provincial Council (NPC) should work with existing powers before demanding further devolution, Sri Lanka's Economic Development Minister Basil Rajapaksa said on Thursday.
"They have not done anything yet," he said, speaking to media persons on the sidelines of a press conference to announce a new bank loan scheme launched by his ministry.
His comments come less than a week after the Tamil National Alliance (TNA), which leads the Northern Provincial Council, met Indian Prime Minister Narendra Modi in New Delhi. On the TNA's visit to New Delhi, Mr. Basil Rajapaksa said: "We knew they were planning to go. Some others, former politicians, also seem to be trying for an appointment, but the TNA got it."
While the Sri Lankan government was yet to hear about it from the Indian government formally, India had acted "professionally and responsibly as always," he said.
In the meeting with Mr. Modi, the TNA sought India's help in pressuring the Sri Lankan government to devolve more powers to the provinces as per the 13th Amendment to Sri Lanka's Constitution, which followed the Indo-Sri Lanka accord of 1987. Mr. Modi is said to have reiterated India's position on the matter, assuring the visiting Tamil leaders that India was committed to engaging with Sri Lanka on the full implementation of the 13th Amendment and "going beyond," as was promised by Sri Lankan President Mahinda Rajapaksa earlier.
Speaking on the Northern Provincial Council's role in development projects in the island's former war zone, Mr. Basil Rajapaksa said the government's development work in the north had slowed down because of little cooperation from provincial government, pointing to the delay in completion of the railway line to Jaffna. Attributing it to inadequate action by the NPC — clearing squatters and making certain roads available for the project — Mr. Rajapaksa said "We are willing to work with them if they work with us."
The ruling coalition, he said, was privately engaging with certain members within the TNA who were open to working with the government.
(The Hindu)
Latest Headlines in Sri Lanka