World Cup challenge for new Sri Lanka selectors
Posted by Editor on June 1, 2010 - 12:48 am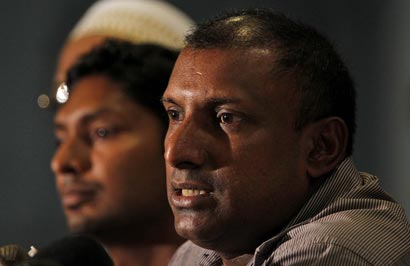 COLOMBO, Sri Lanka (AP)—Former skipper Aravinda de Silva has been appointed Sri Lanka's chief cricket selector and set the challenge of preparing a team capable of winning a World Cup just nine months away.
"I want another team to win a World Cup," said De Silva, whose unbeaten century against Australia in the 1996 World Cup final brought cricket's most prestigious limited-overs title to Sri Lanka for the first time. "I'll try and work hard and honestly as possible to ensure this task is achieved."
Sports Minister C.B. Ratnayake on Monday announced the new selection panel which also includes former international wicketkeeper and television commentator Ranjith Fernando, former national player Amal Silva and Shabir Asgaraly, a former first-class cricketer.
The 44-year-old De Silva said his immediate challenge will be to develop depth in every position and identify batsmen who can repair and rebuild an innings if the top order fails.
He said rather than experimenting with new players in the national squad, he'd make players work hard for a place by performing for lower tier teams.
The outgoing committee headed by Ashantha de Mel was accused of inefficiency, favoritism and political bias in team selection.
But Ratnayake assured the new panel that he will not allow any political interference.
Sri Lanka will co-host the 2011 World Cup with India and Bangladesh. No Asian team has won the World Cup in the 50-over format since Sri Lanka's title in '96, also when it was co-hosting the tournament.
Sri Lanka lost the 2007 final to Australia in the Caribbean but has since slipped to No. 6 in the international ODI rankings and fourth in the test rankings.
De Silva retired from international cricket after the 2003 World Cup, having played 308 limited-overs internationals and 93 test matches. A dashing stroke-making batsman, he averaged just under 43 in test cricket with 20 centuries. He scored 11 hundreds and 64 half centuries in ODIs, and had a strike rate of 81 runs per hundred balls faced.
Latest Headlines in Sri Lanka