World Economic Forum to be held in Lanka: Harin
Posted by Editor on January 24, 2017 - 8:11 am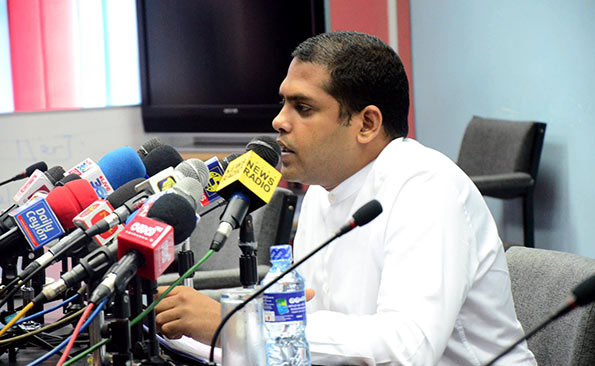 The 2018 World Economic Forum(WEF) is to be held in Sri Lanka, bringing the country more international recognition, Telecommunication and Digital Infrastructure Minister Harin Fernando said.
Minister Fernando said the holding of the WEF 2018 will coincide with Sri Lanka's 70th Independence Day Celebration.
The World Economic Forum brings together the world's top political leaders and financiers to discuss global, regional and industry agendas.
"The Chairman of the World Economic Forum has already pronounced an unofficial agreement to hold the WEF 2018 in Sri Lanka," Minister Fernando said.
"Prime Minister Ranil Wickremesinghe's presentation on South Asia as a new economic leader helped convince the World Economic Forum Chairman to consider holding its next forum in Sri Lanka. A team will be arriving in Sri Lanka in March, to discuss the procedure," the minister said.
"Prime Minister Ranil Wickremesinghe also met the Executive Director of the United Nations' World Food Program Ertharin Cousin to discuss the drought condition that the country is expected to face within the next three months.
The UNFPA Executive Director is scheduled to visit Sri Lanka on February 10 to discuss future WFP assistance," Minister Fernando said.
"Prime Minister Wickremesinghe also held discussions with political leaders and Heads of many business leaders during his recent visit to Switzerland," he said.
"The Prime Minister also had discussions with the Presidents of China and Switzerland, high ranking Government Ministers from New Zealand and Japan, representatives of Microsoft, Dr.Petra Louis of Novartis Pharmaceuticals, Vietnamese officials on a free trade agreement, Chinese business tycoon Jack Ma and India's Minister of Transportation," Fernando added.
Fernando said that most of the investors who spoke with Premier Wickremesinghe expressed satisfaction with Sri Lanka's feasibility for foreign investment and are looking forward to conducting further discussions in this regard. Sri Lanka receiving the GSP+ trade concession has further encouraged investors," he said.
Minister Fernando said certain groups are trying to stifle Sri Lanka's economic progress to meet their narrow political ends.
Fernando further said the government is determined to work for the country's economic development and future well-being of the people," he added.
(Source: Daily News – By Amali Mallawaarachchi)
Latest Headlines in Sri Lanka