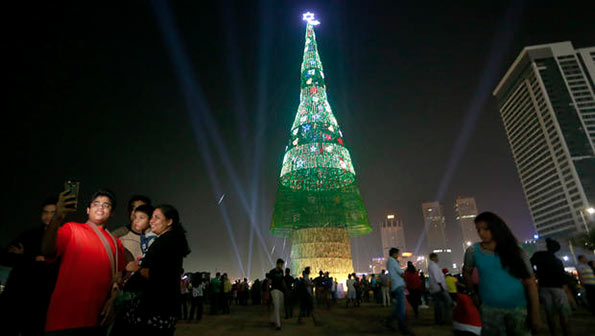 Colombo: Sri Lanka has unveiled a towering Christmas tree, claiming to have surpassed the world record for the tallest artificial Christmas tree.
The 73-meter (238-foot) tree, built in capital Colombo, is 18 meters taller than the current record holder, organisers said. The tree's steel-and-wire frame is covered with a plastic net decorated with natural pine cones, 600,000 LED bulbs and topped by a 6-meter-tall (20-foot) shining star.
On Saturday, organisers said their tree beat the existing Guinness record held by a Chinese firm that put up a 55-meter (180-foot) tree-like tower in the city of Guangzhou last year.
Sri Lanka's claim is subject to confirmation from Guinness World Records, which said it has received an application from the organizers and that it is waiting for evidence.
(AP – Pix by Eranga Jayawardena)