Year after death, LTTE chief's case closed
Posted by Editor on October 26, 2010 - 5:24 am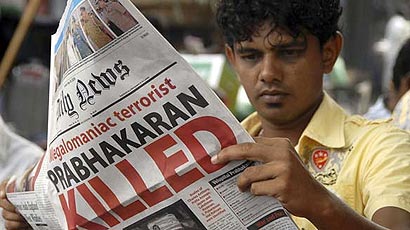 CHENNAI: The LTTE supremo, Velupillai Prabhakaran, is no more the prime accused in the Rajiv Gandhi assassination case. In the first official acknowledgment by India of the LTTE supremo Velupillai Prabhakaran's death, a designated court for Tada cases in Chennai has dropped all charges against him, on the basis of a CBI report.
"The case against the absconding accused A1 Prabhakaran, A2 Pottu Amman alias Shanmuganathan Sivasankaran is hereby dropped and the charges against them ordered abated," ruled the designated judge, K Dakshinamurthy, a couple of weeks ago.
The case and charges against Prabhakaran's trusted lieutenant and LTTE intelligence chief Pottu Amman were dropped based on the report filed by the CBI's Multi-Disciplinary Monitoring Agency (MDMA), which was formed in 1998 to probe the wider conspiracy behind Rajiv's 1991 assassination. Under Indian law, charges against the accused abate automatically on their death.
On May 18 last year, capping the defeat of LTTE, the Lankan government declared the death of Prabhakaran in battle. Though photographs of the bullet-riddled body of the LTTE leader were released to the world, the island-nation had not yet issued a formal death certificate authenticating his death. In the case of Pottu Amman, Lanka has not furnished any photos or certificates, fuelling rumours all over the Tamil diaspora that the two were still alive.
However, last year, when a case pertaining to the 1989 assassination of the moderate Tamil politician A Amirthalingam came up for hearing, the Lankan police filed a report declaring that Prabhakaran and Pottu Amman were dead.
About six months ago, the MDMA filed a report based on the Lankan government's disclosure, stating that the case could be closed as the two LTTE leaders were dead, as acknowledged by Sri Lanka itself.
Courtesy: India Times
Latest Headlines in Sri Lanka