President appeals for Rizana
Posted by Editor on October 27, 2010 - 7:48 am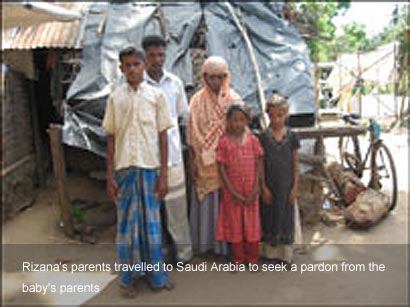 The Sri Lankan president, Mahinda Rajapaksa, has asked the King of Saudi Arabia to revoke the death sentence imposed on a Sri Lankan maid.
Rizana Nafeek was convicted three years ago of killing a baby in her care.
President Rajapaksa's office says he has written to King Abdullah on behalf of the maid, who was convicted three years ago.
The Saudi Supreme Court has upheld the sentence, and the baby's family refused to meet the maid's parents when they flew from Sri Lanka to plead for clemency.
Human rights organisations say that as the maid was under eighteen at the time, international law precludes the death penalty.
Executing minors
New York based Human Rights Watch (HRW) said King Abdullah and Interior Minister Prince Naif should halt the execution.
"Saudi Arabia is one of only three countries worldwide known to have executed individuals in the past two years for crimes committed when they were children," a statement issued by the HRW stated.
A recruitment agency in Sri Lanka had altered the birth date on her passport to suggest she was 23 so she could migrate for work, but her birth certificate later confirmed she was 17 at the time.
Al Shammary, the lawyers appeared on behalf of the Sri Lankan maid said they will "do their best" to resolve the case.
"Now this matter was sent to the higher authorities and council of ministers for approval and also sent to Wali ul Amar (Assistant to King or who works on behalf of king) for review," they said.
Ms Nafeek's parents travelled from a poor village in eastern Sri Lanka to Saudi Arabia to seek a pardon from the baby's parents, but they refused to meet them.
Dr. Durrathul Kifaya Iftikar, a humanitarian worker who has recently visited Rizana Nafeek said she was being treated properly in jail.
She had originally confessed to killing the four-month-old Saudi boy in 2005 but later retracted her statement saying it had been made under duress.
BBC
Latest Headlines in Sri Lanka